Whitmarsh: Button tactic best for race
| | |
| --- | --- |
| By Jonathan Noble | Sunday, October 10th 2010, 03:11 GMT |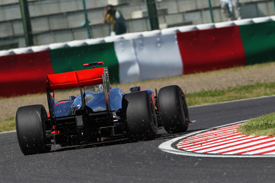 McLaren team principal Martin Whitmarsh believes Jenson Button is in good shape for the Japanese Grand Prix after opting for prime tyres in qualifying, even though he is only starting in fifth place.
The reigning world champion decided to play the long game by not using the option tyres for Sunday morning's qualifying session, and it is a strategy that Whitmarsh thinks can lift Button up the field in the race.
"He is in a very strong position and he did a fantastic job," Whitmarsh told AUTOSPORT. "He was involved in making that call and I think the option tyre is going to struggle a little bit this afternoon, so to be up there near the front with the prime tyre I think you are in a good shape. It was the right thing for him to do.
"We have got the second quickest car, and without that pace we could not have contemplated being on the prime tyre. The prime tyre is clearly the slower tyre over one lap but it will be the strongest race tyre.
"We know how good Jenson is at looking after his tyres and running smoothly, and he will be setting out to really run long into this race, that is not a secret, and hopefully if we get a little bit of luck go our way this weekend, we will be able to exploit that and it will be a good strategy."
Although Button ultimately sacrificed around two tenths of a second of qualifying pace by being fuelled for a multi-lap run in Q3, which was the difference between his final time and that of the cars immediately ahead of him, Whitmarsh reckons it would have been too much of a gamble to expect him to deliver his best on a single-lap run.
"The first thing we all said was if we had gone for one lap on the prime with Jenson we could have been up closer to the front," explained Whitmarsh. "It would have been a very brave thing to do to do one lap on the prime, but that is the normal racing mentality.
"Jenson did his best time on his first lap and still had two laps of fuel, so could have been up there in front of Alonso... so that is a shame."