Plato tops Brands Hatch practice
| | |
| --- | --- |
| By Jamie O'Leary | Saturday, October 9th 2010, 12:37 GMT |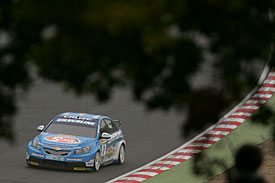 Jason Plato re-affirmed his status as British Touring Car Championship title favourite as he topped the practice times for the season finale at Brands Hatch.
The Chevrolet driver leapt to the head of the timesheets midway through the morning session in 49.022s and then improved his time by over 0.3s during the afternoon to finish up with a pace-setting mark of 48.634s.
Plato's pace, which was achieved despite the championship leader carrying 45kg of success ballast, was underlined as Alex MacDowall made it an all-Chevrolet one-two with a time 0.009s.
WSR man Rob Collard was the best of the BMW drivers in an impressive third place, just over a tenth off Plato's mark, while Steven Kane's Motorbase 320si was fourth.
Title contender Gordon Shedden was fifth quickest for Honda - five places ahead of his team-mate Matt Neal while the fourth of the title contenders, Tom Onslow-Cole, was sixth in his Arena Ford.
Onslow-Cole's team-mate Tom Chilton, James Nash (Triple 8 Vauxhall) and Mat Jackson (Motorbase BMW) rounded out the top nine ahead of Neal, who opted to dispense with a 'development' front end after the morning session and return to the conventional set-up used by Shedden.
James Thompson gave TOCA's NGTC prototype machine, built around a Toyota Avensis chassis, its maiden public outing in the sessions.
Despite the car having had just a day and a half at Pembrey prior to arriving at Brands, the two-time BTCC champion put it 17th quickest and less than a second off the pace.
BTCC debutant Ben Collins completed only five flying laps during the morning due to a gearbox failure on his Motorbase BMW.
The offending item was repaired in time for him to take to the track for the final 10 minutes of the afternoon, but the sportscar ace failed to complete a flying lap. He was 25th and slowest.
Fellow series rookie Sam Tordoff was 15th quickest and only half a second slower than his Triple 8 team-mate Nash.
The afternoon session was red-flagged for 10 minutes after Shaun Hollamby slid his AmD Milltek Volkswagen into the gravel at Paddock.
Pinkney Motorsport had already begun packing David Pinkney's Vauxhall into its transporter by then. An engine problem during the morning put him out of action for the rest of the weekend.

Pos  Driver           Car         Time       Gap
 1.  Jason Plato      Chevrolet   48.634s
 2.  Alex MacDowall   Chevrolet   48.643s  + 0.009s
 3.  Rob Collard      BMW         48.720s  + 0.077s
 4.  Steven Kane      BMW         48.805s  + 0.171s
 5.  Gordon Shedden   Honda       48.834s  + 0.200s
 6.  Tom Onslow-Cole  Ford        48.849s  + 0.215s
 7.  Tom Chilton      Ford        48.858s  + 0.224s
 8.  James Nash       Vauxhall    48.903s  + 0.269s
 9.  Mat Jackson      BMW         48.929s  + 0.295s
10.  Matt Neal        Honda       49.014s  + 0.380s
11.  Paul O'Neill     Honda       49.050s  + 0.416s
12.  Tom Boardman     SEAT        49.193s  + 0.559s
13.  Andrew Jordan    Vauxhall    49.315s  + 0.681s
14.  James Kaye       Honda       49.358s  + 0.724s
15.  Sam Tordoff      Vauxhall    49.454s  + 0.820s
16.  Andy Neate       BMW         49.500s  + 0.866s
17.  James Thompson   Toyota      49.603s  + 0.969s
18.  Arthur Forster   BMW         49.604s  + 0.970s
19.  Martin Johnson   Vauxhall    49.665s  + 1.031s
20.  John George      Honda       49.926s  + 1.292s
21.  Lea Wood         Honda       49.969s  + 1.335s
22.  Shaun Hollamby   Volkswagen  50.125s  + 1.491s
23.  Martin Depper    BMW         50.373s  + 1.739s
24.  David Pinkney    Vauxhall    50.600s  + 1.866s
25.  Ben Collins      BMW         53.356s  + 4.722s
Read our in-depth preview ahead of the BTCC finale at Brands Hatch