McMurray takes another Fontana pole
| | |
| --- | --- |
| By Diego Mejia | Saturday, October 9th 2010, 01:56 GMT |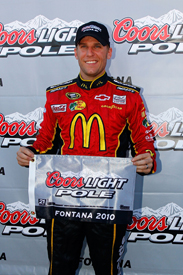 Jamie McMurray completed a clean sweep of pole positions at Fontana after being fastest in qualifying for the track's Chase round.
The Earnhardt Ganassi driver beat the previous benchmark set by his team-mate Juan Pablo Montoya, lapping under the 39-second bracket at 38.859s with an average speed of 185.285 mph.
Nobody got close to McMurray's lap after his run, Elliott Sadler taking second but nearly two tenths of a second off in his Richard Petty Motorsports Ford. Roush Fenway's Matt Kenseth, a three-time winner at Fontana, earned one of his best starting spots of the season with third and was fastest among the title contenders.
McMurray, this year's Daytona 500 and Brickyard 400 winner but unable to earn a place in the championship play-off, leads the series in number of poles this season with four and is only the second driver to sweep both qualifying sessions at Fontana during the year, as he had previously started from pole at the two-mile track back in February.
"We've got a new engine in this week. This is a place where you have so much wide-open throttle that it's really impressive what we have this weekend," said McMurray, who had set the pace in practice earlier on Friday.
"I'm really glad to get to have that here at Fontana. I learned this morning that you don't get to pick the tracks you have it at. So, Juan has had it a couple of races and I'm glad we got to have it here."
Montoya ended up fourth, continuing his good qualifying performances, while Kasey Kahne rounded out the top 10 in another fast Friday for the RPM Fords. Kenseth's team-mate and Kansas winner Greg Biffle was seventh ahead of Chase leader Jimmie Johnson, who seeks a record sixth win at his home track this weekend.
"That was the fastest lap we ran over the weekend so far, so directionally we did everything right and a top 10 starting spot will be great," said the reigning champion following his qualifying run.
Kevin Harvick, who just missed out on victory at Fontana earlier this year, had his usual modest qualifying, ending up 21st and worst among the Richard Childress Racing cars, while Joe Gibbs Racing's Denny Hamlin, who trails Johnson by eight points in the championship, had his worst qualifying of the year with 34th place on the grid for Sunday's race.
"It's not the qualifying run we were looking for," said Hamlin. "We just missed our line a little bit in qualifying and lost time. Here it's pretty time-critical."
Casey Mears was best of the non-guaranteed drivers with the 12th fastest qualifying lap at the track he calls home, while Mike Bliss and Candian Patrick Carpentier failed to make the field.
Pos  Driver              Car        Speed    Time     Gap
 1.  Jamie McMurray      Chevrolet  185.285  38.859s
 2.  Elliott Sadler      Ford       184.407  39.044s  + 0.185s
 3.  Matt Kenseth        Ford       184.096  39.110s  + 0.251s
 4.  Juan Pablo Montoya  Chevrolet  184.068  39.116s  + 0.257s
 5.  Kasey Kahne         Ford       183.964  39.138s  + 0.279s
 6.  Martin Truex Jr     Toyota     183.772  39.179s  + 0.320s
 7.  Greg Biffle         Ford       183.767  39.180s  + 0.321s
 8.  Jimmie Johnson      Chevrolet  183.702  39.194s  + 0.335s
 9.  Dale Earnhardt Jr   Chevrolet  183.552  39.226s  + 0.367s
10.  Joey Logano         Toyota     183.365  39.266s  + 0.407s
11.  Mark Martin         Chevrolet  183.360  39.267s  + 0.408s
12.  Casey Mears         Toyota     183.346  39.270s  + 0.411s
13.  Clint Bowyer        Chevrolet  183.271  39.286s  + 0.427s
14.  Ryan Newman         Chevrolet  183.220  39.297s  + 0.438s
15.  Jeff Burton         Chevrolet  183.211  39.299s  + 0.440s
16.  Kyle Busch          Toyota     183.155  39.311s  + 0.452s
17.  Jeff Gordon         Chevrolet  183.057  39.332s  + 0.473s
18.  David Ragan         Ford       182.983  39.348s  + 0.489s
19.  Regan Smith         Chevrolet  182.941  39.357s  + 0.498s
20.  Carl Edwards        Ford       182.904  39.365s  + 0.506s
21.  Kevin Harvick       Chevrolet  182.797  39.388s  + 0.529s
22.  Tony Stewart        Chevrolet  182.788  39.390s  + 0.531s
23.  David Reutimann     Toyota     182.648  39.420s  + 0.561s
24.  Paul Menard         Ford       182.528  39.446s  + 0.587s
25.  Brad Keselowski     Dodge      182.219  39.513s  + 0.654s
26.  Marcos Ambrose      Toyota     182.089  39.541s  + 0.682s
27.  Reed Sorenson       Toyota     182.089  39.541s  + 0.682s
28.  Michael McDowell    Chevrolet  181.965  39.568s  + 0.709s
29.  Scott Speed         Toyota     181.947  39.572s  + 0.713s
30.  AJ Allmendinger     Ford       181.910  39.580s  + 0.721s
31.  JJ Yeley            Chevrolet  181.883  39.586s  + 0.727s
32.  David Gilliland     Ford       181.452  39.680s  + 0.821s
33.  Jason Leffler       Toyota     181.424  39.686s  + 0.827s
34.  Denny Hamlin        Toyota     181.264  39.721s  + 0.862s
35.  Joe Nemechek        Toyota     181.196  39.736s  + 0.877s
36.  Landon Cassill      Toyota     181.014  39.776s  + 0.917s
37.  Sam Hornish Jr      Dodge      180.791  39.825s  + 0.966s
38.  Kurt Busch          Dodge      180.591  39.869s  + 1.010s
39.  Dave Blaney         Ford       179.556  40.099s  + 1.240s
40.  Travis Kvapil       Ford       178.077  40.432s  + 1.573s
41.  Kevin Conway        Toyota     177.222  40.627s  + 1.768s
42.  Andy Lally          Chevrolet  177.152  40.643s  + 1.784s
43.  Bobby Labonte       Chevrolet

Did not qualify:

     Mike Bliss          Toyota     180.650  39.856s  + 0.997s
     Patrick Carpentier  Ford       179.753  40.055s  + 1.196s