Waldegaard, Mouton set for Marroc
| | |
| --- | --- |
| By David Evans | Friday, October 8th 2010, 17:43 GMT |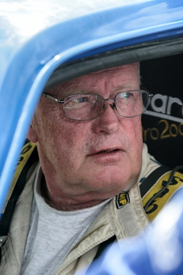 The first ever World Rally champion Bjorn Waldegaard and the sport's fastest lady Michele Mouton will return to competition for the Rallye International du Maroc, which starts from Marrakesh tomorrow.
Waldegaard, who won his title in 1979, is no stranger to competing in Africa. As well as driving in Morocco when the country was part of the World Rally Championship from 1973-76, the 66-year-old was a formidable competitor on the Safari Rally, winning the event on no fewer than four occasions.
"My experience of competing in Morocco was in a Citroen and a Fiat Spider so I know how extremely tough the roads can be, especially in the areas by the dried-out rivers. For this reason you have to be very alert," said Waldegaard, who will drive a Peugeot 504 on the event.
"I have never driven the Peugeot before, so it's not ideal, but I have to accept the situation. The rally lasts for nine days so I have time to adapt to the car. It won't be a problem and you have to remember the Peugeot has a good record on events in Africa so it's a car that can be competitive but also reliable."
Four-time world rally winner Mouton will drive a Porsche 911, a car she is familiar with, but not in its current guise.
The French lady said: "With this modern suspension it's really incredible - it changes your life completely. This is the first time I have driven this kind of 'modern' Porsche. This is an old-fashioned modern car; I did London to Sydney a few years ago with this kind of car, but it's amazing how far it has come since then."
Mouton, who remains the only lady ever to have won a round of the world championship, said she would not let her competitive instinct get the better of her.
"I will have to be fit, but I am going to enjoy," said Mouton. "If you enjoy the driving then normally you can perform well. I don't want to get stressed about this, it's not about that kind of thing. When I drive - and this will never change in my life - I always drive to drive the best that I can and then if you win, you win.
"But I'm not approaching this event saying: 'Argh! I have to win, I have to win!' I never did this in my life and I don't think I will start today. I want to enjoy and to be professional, but the key word is to enjoy.
"I'm doing Maroc because it's a country I have never driven. When I started driving the Morocco rally was no longer in the championship and everybody was telling me: 'Oh, you don't know how good the Morocco rally was: it was the best time' and all of this kind of thing - 'the fantastic road in the Atlas' and this kind of thing."
Among the other leading entries are top Belgian driver and former European champion Gregoire de Mevius (Porsche 911), former sportscar star Ray Bellm (Porsche 911) and top British privateer John Lloyd (Ford Escort MK II). On an event masterminded by leading French rally driver Paul-Eric Jarry (Mouton drives his 911), the nation's dominant car manufacturer in current rallying is also supported with Bob Neyret and Philippe Warmbergue driving DSs.
The event finishes back in Marrakesh after seven days and 1,800 miles - half of which are competitive - on Sunday October 10.