| | |
| --- | --- |
| Rossi unrepentent over Motegi battle | |
| | |
| --- | --- |
| By Matt Beer | Thursday, October 7th 2010, 13:41 GMT |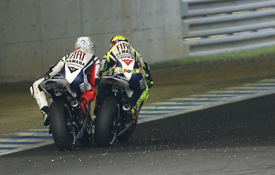 Valentino Rossi says he has no regrets about his aggressive battle with Yamaha team-mate Jorge Lorenzo in the Japanese Grand Prix, and believes Lorenzo only criticised his riding because he was frustrated at being beaten.
The Yamaha duo made contact as they repeatedly swapped positions in the closing laps at Motegi, with Rossi emerging in front and taking the final podium position.
Afterwards Lorenzo expressed his displeasure at Rossi's tactics during the battle, but the reigning world champion dismissed Lorenzo's complaints that because the Spaniard is chasing the title, Rossi should not have taken so many risks when dicing with him.
"We didn't speak together, but I think the situation is very clear, and I also understand him that when you have a great battle like this in the last laps and you lose, you are a little bit p****d off," said Rossi.
"This is normal, it also happens to me when I lose. But Yamaha doesn't say anything to me. I make my race.
"Also the situation is not critical or crucial in the championship because Dani [Pedrosa] was already in the hospital, so I can do my race. And a lot of time Jorge said he expected this fight on the last lap with me, so I don't know what he expected from me. I always give the maximum and try to arrive in front. For sure the battle was very aggressive, but nothing more."
He added that the fight between them had created great entertainment.
"I always enjoy the battle, and in the past every race was finished on the last lap, so everybody wants the battle at the end," said Rossi. "Unfortunately now sometimes with these bikes the race is finished early.
"But on the last lap you have to give the maximum. I always give all my best to try to arrive in front, and it was a great battle, very aggressive, with some great manoeuvres. It was very enjoyable to watch on the television but also from the bike."
Lorenzo refused to discuss the Motegi incident when quizzed about it at Sepang today.
"It doesn't matter what happened in the past," he said. "It's important what happens in the present, and also in the future."
The Spaniard needs only a ninth place from Sunday's Malaysian GP to clinch the world championship, as his remaining title rival Pedrosa is sitting the race out due to his broken collarbone.
Rossi suggested that Lorenzo could have a fairly relaxed run to the championship this weekend.
"When you have to fight for the championship, it's normal and human that you feel a bit more pressure," said the seven-time MotoGP title-winner. "But I think his situation is quite easy, especially because Dani is not here, so he can just arrive at the end and take some points to achieve the championship."