Webber downplays favourite status
| | |
| --- | --- |
| By Jonathan Noble and Pablo Elizalde | Thursday, October 7th 2010, 08:54 GMT |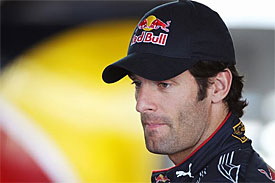 Mark Webber says he does not see himself as the favourite to win this year's championship despite his lead in the standings.
The Red Bull driver is 11 points ahead of Ferrari's Fernando Alonso with just four races to go, but the Australian reckons it is still too tight to consider anyone the favourite for the title.
Webber also admitted he is treating the Japanese Grand Prix as any other race, hoping to get the best possible result.
"I think we are all pretty even at the moment," said Webber at Suzuka. "It can change quickly, in a good way for me and in a bad way for me. It can change very quickly. It's on a knife's edge.
"But I'm very, very relaxed. It's another race for me. I will do my best and the points will look after themselves."
The Australian said he is not wasting any time thinking about the title at this point of the season.
"I'm not even thinking about it. It's just another car race," he said. "I will do my best and the other stuff will take care of itself. If it was a 15-race championship I'd be champion now, but I'm not.
"There's four races to go and you need to lead the championship at the end, not now."
Webber is also expecting to be strong at Suzuka, but reckons rivals Ferrari and McLaren are also going to be up there.
"Well, I went very quick in Turkey and then I was pretty strong at Silverstone. The cars have changed massively since the middle part of the championship. Everybody's moved forward. Ferrari I expect them to be right in the hunt. All three teams will be quick."