| | |
| --- | --- |
| Lorenzo promises to fight Rossi harder | |
| | |
| --- | --- |
| By Michele Lostia and Pablo Elizalde | Monday, October 4th 2010, 15:34 GMT |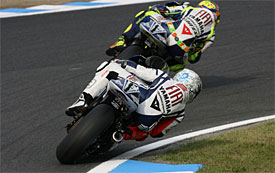 Jorge Lorenzo says he will be more aggressive when battling with Valentino Rossi once he has secured this year's title.
The Spanish rider hit out at his Yamaha team-mate after the Japanese Grand Prix, saying the Italian had been unfair in their battle for third place in the closing stages of the event.
Lorenzo has vowed to fight harder next time, claiming that at Motegi he was thinking of the championship.
"He didn't do moves worthy of a punishment, otherwise the stewards would have intervened, but he was really on the limit," Lorenzo was quoted by Gazzetta dello Sport. "When? Every time he passed me. He would make contact and push me out.
"It's the sort of behaviour he has already displayed in the past with Gibernau and Stoner. Now it's been my turn, but I'm not like them. Should we fight side by side again once the title is won, I'll do things his way."
The Spaniard said he had complained to Yamaha's bosses because he felt the fight was simply too hard.
"Yes, because I'm fighting for the riders' title and Yamaha for the constructors'. A crash between us would have been a gift to Honda and Ducati and would have put my championship at risk."
Rossi himself admitted he was surprised by Lorenzo's comments.
"I'm surprised by Lorenzo's reaction. He was calm at the finish, and then changed his mind. I don't know why," he said.
He added: "Lorenzo had said he wanted a race to the last lap with me. This is racing with me to the last lap. We overtook each other many times and even made contact. It was nice, especially for me since I ended up ahead of him.
"With Jorge we found ourselves very close to one another, and at times we even had to lean on the other since there was no room for two bikes. Congratulations to him for being aggressive and determined. But the best moves at the last corner are the ones for victory, not for third place!"
Yamaha's managing director Lin Jarvis said the team would make sure there is no repeat of the Motegi fight.
"Lorenzo has not demanded a punishment for Valentino, but he has complained and the team have agreed they don't want, at any time in the season, to see their riders fight each other so aggressively, especially with two titles at stake. My heart was racing furiously during the race.
"Furusawa will discuss this with Valentino. We don't give team orders at Yamaha, but we want fights with reciprocal respect. Rossi knows that Jorge has not won the title yet, and that we care about it a lot!"