Renault flattered by Raikkonen interest
| | |
| --- | --- |
| By Pablo Elizalde | Monday, October 4th 2010, 11:45 GMT |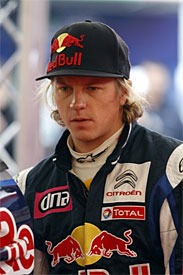 Renault boss Eric Boullier says Kimi Raikkonen's interest in the team is flattering and shows that the French squad is on its way up.
"Yes, it is because it shows that the work we've done this season is noticed and that we are considered a challenger for the championship in the future," Boullier told the official Formula 1 website.
Raikkonen has contacted the team with a view of returning to grand prix racing next year following a season in the World Rally Championship.
Boullier insisted he wants to meet Raikkonen face to face to find out about the Finn's motivation to return to Formula 1, but made it clear the team first has to decide whether it will retain Vitaly Petrov or not.
"He contacted us. But once again, our main issue at the moment is whether we should keep Petrov. Only if this question is negated we will look for replacement. Regarding Kimi, I would have to speak personally with him first, look him in the eyes to see if I see enough motivation there for him to return to Formula 1.
"It doesn't make sense to hire somebody - even a former world champion - if you cannot be sure that his motivation is still one hundred percent. Why should you invest in somebody who leaves you guessing?"
Boullier admitted Petrov's financial potential is undeniable, but said the driver's performance will still be the main factor in deciding on his future.
"I know that a Russian driver would be appreciated and Russia holds a huge potential for all companies present in Formula 1," he said. "However, for us the performance of a driver is still the first criteria - and then the passport.
"Performance clearly wins over marketing potential because if a driver doesn't deliver then the marketing potential is also limited. You must never put the cart before the horse, or at least we don't. For a French driver the nationality would similarly not smooth his way into the cockpit if he was lacking performance."