Perera stripped of Ordos final win
| | |
| --- | --- |
| By Charles Bradley | Sunday, October 3rd 2010, 11:04 GMT |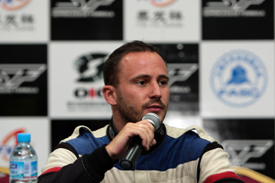 Bordeaux's Franck Perera has been stripped of his super final victory in the 10th round of Superleague Formula at Ordos in China, after he failed to line up in the correct position on the starting grid.
On-the-road winner Perera was given a three-second penalty, which hands the €100,000 top prize to Porto's Earl Bamber, who came to China thinking he would be commentating on the racing, rather than taking part. Perera started in Bamber's sixth slot, forcing Bamber to start from the wrong position too, but Bamber's case was judged as result rather than cause.
Perera loses €25,000, as second place carries a €75,000 prize.
It has also transpired that the race's early leader, Yelmer Buurman, suffered a slow puncture right from the start.
"The first lap wasn't so bad and I pulled out a small gap, but after the second lap the tyre was leaking air," he said. "We think through the valve although we don't know for sure yet.
"It was bad in the corners but even on the straight when I was flat to the floor there was smoke coming off the rear. I actually kept the others behind me longer than I expected, but eventually they just came past. At least I managed to bring it home to score some points."