| | |
| --- | --- |
| Front row spot a relief for Stoner | |
| | |
| --- | --- |
| By Matt Beer | Saturday, October 2nd 2010, 06:18 GMT |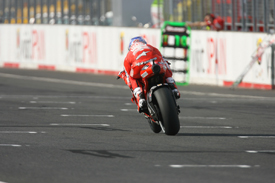 Casey Stoner was pleased to qualify as high as third in Japan, having admitted that Ducati was struggling to find a workable set-up during practice.
The winner of the last round had hoped that the set-up breakthrough that helped him to Aragon victory would transfer to Motegi, but soon discovered this would not be the case.
"We started out with something very similar to Aragon, and we're still using the general geometry," said Stoner.
"But we had to drop the bike quite a bit because we were having a lot of problems under braking and wheelie-ing too much on the exit of corners.
"So we dropped the bike, tried to make it a little bit more stable in as many places as we could, and the more stable we made it, the better it turned in.
"Unfortunately we kept losing grip, not matter what we did. I was getting more comfortable with the bike and riding harder, and we were just getting slower and slower. We couldn't really understand it that much. We knew we weren't in the best situation with grip, but [didn't think it was] that bad.
"So we just decided to go back somewhere in the middle, try and get a bit more weight over the rear and get it pushing a little bit more, and we'd just have to put up with the wheelies."
That adjustment finally got Stoner onto the frontrunners' pace, and having looked like he might be destined for the second row, he suddenly burst onto provisional pole five minutes from the end of qualifying, though Andrea Dovizioso and Valentino Rossi would later demote him to third.
"Immediately we found an improvement and it started to feel a lot better and the lap times started to tumble," Stoner said of the final set-up change.
"From there we threw a soft tyre on and managed to pull ourselves a little way up the grid and away from the clutches of the third row. So we're happy about that."