Kahne leads all-RPM Kansas front row
| | |
| --- | --- |
| By Diego Mejia | Friday, October 1st 2010, 22:56 GMT |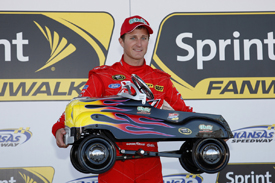 Kasey Kahne claimed his third position of the NASCAR Sprint Cup season while his team-mate Paul Menard helped secure the first front row sweep for Richard Petty Motorsports in qualifying at Kansas Speedway.
Despite being among the early runners when track conditions were probably not at their best, Kahne was able to lap bellow the 31 second bracket, setting the benchmark for the session at 30.920s at an average speed of 174.644 mph. His team-mate Menard was able to get close and missed his first pole by just 0.031s, while still rounding out the best qualifying result the team has seen.
"To me this shows that myself and Paul and our teams are still really interested in running strong and not backing down at all just because we have other things we are going to do in the future," said Kahne, who leaves RPM at the end of the season to join Red Bull Racing next year, before moving to Hendrick Motorsports in 2012.
"At the same time it shows that RPM is giving us great race cars. Roush Yates is giving us great engines. We have the package, we just need to put it all together."
Hendrick's Jeff Gordon, a two-time Kansas winner, was best among the title contenders and the fastest Chevrolet in third, while Joe Gibbs Racing's Joey Logano was fourth and best among the Toyotas.
Roush Fenway's Greg Biffle was fifth, making it three Fords in the top five ahead of the Chevrolets of Stewart Haas' Ryan Newman and Earnhardt Ganassi's Juan Pablo Montoya, who continued his unmatched top-10 qualifying run for the 11th week in a row.
Biffle's team-mate Matt Kenseth and Penske's Kurt Busch were the only other Chase drivers in the top 10, taking eighth and ninth, while former champion Bill Elliot placed his Wood Brothers' Ford as the best of the non-guaranteed drivers with the 11th fastest qualifying lap.
Chase leader Denny Hamlin was 12th, two places ahead of last year's Kansas winner Tony Stewart, while reigning champion Jimmie Johnson only managed a 21st place and Kyle Busch, third in the championship, will start just ahead of him from 19th on Sunday.
The Richard Childress Racing Chevys had yet another poor qualifying showing with Jeff Burton 23rd, ahead of Kevin Harvick, while Clint Bowyer was 27th. However Carl Edwards was the worst qualifier among the title contenders, ending up in 31st place.
Joe Nemechek, Mike Bliss and Jason Leffler failed to make the field.
Pos  Driver              Car        Speed    Time     Gap
 1.  Kasey Kahne         Ford       174.644  30.920s
 2.  Paul Menard         Ford       174.469  30.951s  + 0.031s
 3.  Jeff Gordon         Chevrolet  174.430  30.958s  + 0.038s
 4.  Joey Logano         Toyota     174.312  30.979s  + 0.059s
 5.  Greg Biffle         Ford       174.255  30.989s  + 0.069s
 6.  Ryan Newman         Chevrolet  174.149  31.008s  + 0.088s
 7.  Juan Pablo Montoya  Chevrolet  173.952  31.043s  + 0.123s
 8.  Matt Kenseth        Ford       173.902  31.052s  + 0.132s
 9.  Kurt Busch          Dodge      173.874  31.057s  + 0.137s
10.  David Ragan         Ford       173.768  31.076s  + 0.156s
11.  Bill Elliott        Ford       173.751  31.079s  + 0.159s
12.  Denny Hamlin        Toyota     173.701  31.088s  + 0.168s
13.  Regan Smith         Chevrolet  173.622  31.102s  + 0.182s
14.  Tony Stewart        Chevrolet  173.416  31.139s  + 0.219s
15.  Elliott Sadler      Ford       173.377  31.146s  + 0.226s
16.  David Reutimann     Toyota     173.349  31.151s  + 0.231s
17.  Bobby Labonte       Chevrolet  173.321  31.156s  + 0.236s
18.  Sam Hornish Jr      Dodge      173.227  31.173s  + 0.253s
19.  Kyle Busch          Toyota     173.177  31.182s  + 0.262s
20.  Dale Earnhardt Jr   Chevrolet  173.077  31.200s  + 0.280s
21.  Jimmie Johnson      Chevrolet  173.038  31.207s  + 0.287s
22.  Jamie McMurray      Chevrolet  173.033  31.208s  + 0.288s
23.  Jeff Burton         Chevrolet  173.021  31.210s  + 0.290s
24.  Kevin Harvick       Chevrolet  172.960  31.221s  + 0.301s
25.  Martin Truex Jr     Toyota     172.933  31.226s  + 0.306s
26.  Brad Keselowski     Dodge      172.883  31.235s  + 0.315s
27.  Clint Bowyer        Chevrolet  172.789  31.252s  + 0.332s
28.  Mark Martin         Chevrolet  172.706  31.267s  + 0.347s
29.  Michael McDowell    Dodge      172.612  31.284s  + 0.364s
30.  AJ Allmendinger     Ford       172.557  31.294s  + 0.374s
31.  Carl Edwards        Ford       172.529  31.299s  + 0.379s
32.  Marcos Ambrose      Toyota     172.408  31.321s  + 0.401s
33.  Scott Speed         Toyota     172.046  31.387s  + 0.467s
34.  Reed Sorenson       Toyota     172.024  31.391s  + 0.471s
35.  Landon Cassill      Toyota     171.986  31.398s  + 0.478s
36.  Patrick Carpentier  Ford       171.734  31.444s  + 0.524s
37.  Casey Mears         Toyota     171.723  31.446s  + 0.526s
38.  David Gilliland     Ford       171.510  31.485s  + 0.565s
39.  JJ Yeley            Chevrolet  171.396  31.506s  + 0.586s
40.  Travis Kvapil       Ford       170.719  31.631s  + 0.711s
41.  Kevin Conway        Toyota     170.309  31.707s  + 0.787s
42.  Tony Raines         Chevrolet  169.438  31.870s  + 0.950s
43.  Dave Blaney         Ford       171.266  31.530s  + 0.610s

Did not qualify:

     Joe Nemechek        Toyota     171.255  31.532s  + 0.612s
     Mike Bliss          Toyota     170.557  31.661s  + 0.741s
     Jason Leffler       Toyota     169.465  31.865s  + 0.945s