Branson confirms Virgin backing for '11
| | |
| --- | --- |
| By Jonathan Noble | Thursday, September 30th 2010, 15:58 GMT |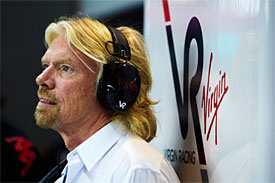 Richard Branson has confirmed that he will continue to support the Virgin Racing team in 2011 - and is ready to accept less branding on the car so the outfit can give more space to other sponsors.
The entrepreneur began his tie-up with the outfit from the start of this season, having entered Formula 1 as a sponsor of the title-winning Brawn GP team in 2009.
And although Branson has previously been reluctant to state that he will definitely remain a part of Virgin Racing in the future, especially during the team's early season troubles, he has now made it clear that he is wholly committed for 2011.
"Yes, for sure," he said when asked whether Virgin would continue its support of the team.
"It's been a fun season and we've still got to beat Lotus, and have a few more races to do it. Nick Wirth [technical director] is back in the factory working on the car for next season, and I think we've made a good start anyway."
Branson revealed that he would be happy for his Virgin companies to get less exposure on the car in 2011 if space was needed to attract other sponsors and partners.
"I suspect these guys seem to be doing quite well on sponsorship for next year and if they do that, then more space will be taken up by outside sponsors," he said. "But that is a positive thing.
"We obviously hope to be able to keep Virgin on the back of the car but ultimately it is up to these guys how many sponsors they get."
Although Virgin Racing is still behind Lotus in the battle of the new teams, Branson is happy with how the campaign has panned out.
"As I said at the beginning of the season, we knew we were going to be the underdogs again, and we went into it with our eyes open and it is fun building a new team from scratch," he said.
"I think the team are delivering what they have promised on reliability and so on. The amount of money this team is spending is maybe £20 million less than Lotus. So to be almost matching them car for car is great, and our reliability has been better."
And even though Virgin is not achieving the levels of success it enjoyed with Brawn GP last year, Branson still thinks he is getting good value exposure with his current venture
"We didn't spend much money last year and we haven't spent much money this year," he said. "The Virgin brand is strong and it attracts other sponsors, so people want to be involved with the Virgin cars. It has worked well for us both years.
"Obviously the coverage was more when you are winning, but we were just ridiculously lucky last year and don't get many of those in a lifetime."