Teams concerned about Korea situation
| | |
| --- | --- |
| By Jonathan Noble | Monday, September 27th 2010, 08:18 GMT |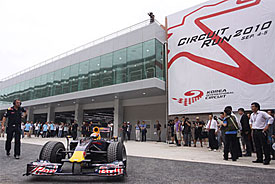 Formula 1 team principals have admitted that they now too have some concerns about the readiness of the Korean Grand Prix.
On the back of remarks from Bernie Ecclestone in Singapore on Sunday suggesting that there were some doubts that Korea would be ready in time for its race in October, team bosses have also confessed that the situation is a worry.
McLaren team principal Martin Whitmarsh, whose team would prefer the race to go ahead because it will provide another important event for it to claw back lost ground in the championship, said: "We would like to get a lot of points there, and we want more races.
"I think there are clearly, from everything we hear, a lot of concerns there, but I think we have to assume that Bernie and the Koreans are working on that. We have to concentrate now on going to Suzuka and maximising our points."
Renault team principal Eric Boullier said about the possibility of the Korean Grand Prix getting cancelled: "It is a worry because we would have spent money for nothing. It is extra work for nothing. It is not easy to understand in advance if it will be ready or not - and that is clearly not good."
But Red Bull Racing team principal Christian Horner was confident that Korea would go ahead – although his team's good position in the championship meant there could be some benefits from it being cancelled.
"I think we will definitely be in Korea," he said. "I had a chat with some representatives earlier and they now seem pretty confident. We were there a few weeks ago [for a Red Bull demonstration] and they were well on course with it, so we are pretty confident. At the moment all the flights are still booked."