Ecclestone admits doubts about Korea
| | |
| --- | --- |
| | Sunday, September 26th 2010, 14:23 GMT |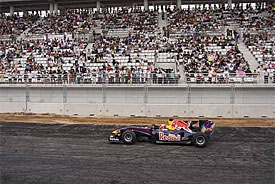 Formula 1 supremo Bernie Ecclestone has admitted there are doubts about whether the Korean Grand Prix will take place this year.
The race has been surrounded by doubts for months, although organisers were adamant the circuit would be ready in time for next month's race.
The inaugural Korean GP is scheduled for October 24, and an FIA inspection was expected on September 21, but that has been delayed.
Korean officials attended the Singapore GP to hold talks about scheduling a new FIA inspection.
Ecclestone admitted there will be concerns until the race takes place.
"Until it's on there's always concerns obviously," Ecclestone told The Associated Press. "We have to get lucky and hope it will happen."
Speaking with the BBC, he added: "Well, it's not good. It should have been inspected maybe six weeks ago, which it was inspected but it wasn't passed. We normally have a 90-day check before a race and now we are sort of putting this off.
"It's quite dangerous what we've done actually, but I mean it's a case of 'do we cancel the race or not?' They say it is all going to be okay, so we hope they are right."
AUTOSPORT understands the inspection will now take place in the week after the Japanese GP, on October 11.
Indian driver Karun Chandhok completed a demo run of the circuit with a Red Bull car earlier this month.