Q & A: Webber on the title fight
| | |
| --- | --- |
| By Jonathan Noble | Sunday, September 26th 2010, 08:31 GMT |
Q. This race wasn't supposed to be about damage limitation, was it?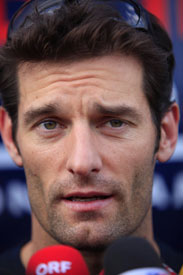 Mark Webber: Yeah, probably. You can only do that for so long. We know we need to be fast at every track. I haven't been pulling any trees up this weekend in terms of pace to be honest. I have done my best. I would have liked to have been on the second row at least, but I am on the third row.

That's not too bad though, considering in the last two races I have come around seventh and ninth after the first lap and still managed to get 24 points. So it is not the end of the world qualifying fifth. It is a very, very long grand prix here. A lot of things can happen. But you know the dogs don't sleep - Ferrari and McLaren are still in there, they were never really out.

Our team has done an incredible job. We are certainly still in there. We are leading both championships and that is what we have still got to try and do here tonight.

Q. In the first run of Q3, were you backed up at all behind Sebastian Vettel because you looked quite close on television?
MW: A little bit, but I think he was surprised with Michael [Schumacher], so probably I lost a little bit to Jenson Button on that lap. But Seb was snookered a bit with Michael, so it wasn't the ideal finish to the lap for me but you do have another chance which I didn't improve on, for lots of different reasons. I just wasn't quick enough.

Q. As far as your laptimes are concerned, where are you struggling compared to Seb?
MW: Turns 13-14, and probably 20-21.

Q. Is there any reason for that?
MW: Turn 13 is a basic hairpin but getting off the hairpin is not great. And just getting entry into Turn 14, I am not very comfortable on the way in there so I don't get the best run out of there. They are reasonably basic corners but for whatever reason they are not great.
Normally Seb and I qualify on the same row most of the time, but it doesn't always happen. That is the way it was. He did a good job, but my focus is not only on him it is on everyone collectively. There are many swings and turns to still go with this one. We saw Felipe stop with an engine problem so there are lots of things that can still happen.

Q. Do you feel that your race pace will be better than your single lap form?
MW: Not necessarily. I think we are similar to where we were today. Every driver is going to say they had two or three tenths - it was that type of lap. Everyone can say they could have gone quicker if they put the perfect lap together – it's that kind of place. It is a very, very tough venue to put everything together. So, we have 61 opportunities tomorrow to do a perfect lap.

Q. If the race finished tomorrow in the same order as qualifying you still leave here leading the championship. Would that be a blow to your total ambitions, or something you would be happy about?
MW: It depends what happens in front. Fifth is not enough for every race from here on in, clearly not. It is not something we are planning to do for the next five races. But, if it is the maximum we can get here tomorrow, then that is it. And we go along to Suzuka and further events.

I still think that performance alone is still not going to settle some of the end championship positions. We will still have reliability going on – so finishing is still important. If we got points for qualifying it would be different, but there are so many things that can happen in the next five races where it can go up and down, not just through performance but also reliability, or dodgy pitstops.

Lots of things can still happen, so fifth place tomorrow – would I take it? You could say but it could be a lot worse than that. I don't really know. I am looking to improve in the race for sure.

Q. The top five title contenders are bunched up on the grid. Will that reflect in the race in the way you drive, with more or less aggression between all of you as you all have to think about the title?
MW: I don't know. I think most people have been thinking a little bit like that in the last few events anyway. Obviously it was a tough break for Lewis [Hamilton] in the last race, which could happen to any of us. Plus Seb at Spa. Here, we will see. It is normal that the five of us are always together. We need to go racing still.

Q. There is a strong chance of safety cars here. Is there anything you can do with strategy to take advantage of them?
MW: Pretty straightforward strategy, yeah. There is a high chance of safety car here and we will go through that before the race, having looked at the grid positions. But I think it should be straightforward.

Q. If the track is damp like in the morning practice sessions, how difficult will it be to call from intermediates to slicks?
MW: We have a cut-off that we know roughly is the time. We have had many cases where the inters have finished and the slicks have started, so we have an idea there. We are seeing how incredibly slow the track is to dry. It is the longest I've seen in my career since go-karts at a race weekend. It is incredible.
It is amazing how the new surface has made it – and how the humidity in the air keeps the asphalt damp. We need to deal with it on the day and if it does happen then it won't be a surprise to us in the race – we have seen how those things happen.

Q. Looking at the championship, do you want to be more aggressive or more cautious?
MW: As I've kept saying from Spa, you cannot win the championship here. But I can certainly hurt it. We've seen in the last few races that you can make a bit harder if you are not there at the end. So, it is a bit of a boring way to go racing, because the big picture stuff is very important. You need to get the balance right. It is something that so far has not been too bad for me.

Q. Any extra pressure because of the recent starts?
MW: Not too much really. Our procedure and plan will be pretty normal off the line. I am on the clean side, which will hopefully be okay, but I don't think the dirty side is as big a problem as it was in the past. They have cleaned this track a lot more on the left hand side. It is something where there is a bit of focus from the team clearly – but it is not like we are pulling up on the grid and thinking we are going to drive past everyone in front of us.
It is a big attention and focus for us at the moment, as it is for other teams to make their pitstops match our pitstops. We have strengths in other areas. It is difficult to be perfect at everything, or trying to be. Every team has got its areas that it needs to improve on and let's hope tomorrow we can do a good job off the line.

Q. So you are not too worried about tomorrow?
MW: This is going to be a very interesting race. I will do the best start I can and then after that we need to get into the rhythm and see how it goes. If people are disappearing then... there is a great saying in athletics. If you have got your heart-rate monitor on and it says 220 and the guy pulls away, what are you going to do? Run faster? You can only do what you can do. I am going to be at my best here, looking forward to the race and seeing what it throws at us.
Q. Will the chicane cause a bit of trouble you think?
MW: Only if someone has a failure. That is obviously the drivers' concern and it has been since Montreal that those type of chicanes, none of the drivers are particularly keen on. We are fine driving through them but as we saw with Adrian [Sutil], if we arrive at that chicane with any puncture, suspension or brake problem and we don't have control of the car, then clearly the car will be launched. And that is something the FIA is looking at.

Q. Is the first corner a worry for you because you are behind your title rivals?
MW: I can watch!

Q. Are you disappointed with the performance ultimately?
MW: We did our best. Fifth is what I could do today. I didn't deserve any more. Every driver says they have two or three tenths left and they could have done a better job here or there, but it is the same for all of us. The grid is what it is. We had more than enough opportunities to do the laptimes and that is where we are.
As a team, far out – we are leading both championships still and we need to leave here in good shape tomorrow and keep the war going. We are dreaming if we are going to think it is going to be given to us. We have to work hard and that is what it is about.