Furious Bowyer insists penalty unjust
| | |
| --- | --- |
| By Diego Mejia | Friday, September 24th 2010, 17:17 GMT |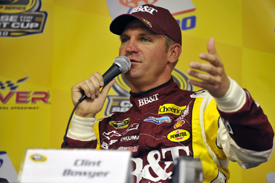 Clint Bowyer insists his team did not cheat to claim victory in the Chase opener last week at Loudon as he made a furious statement in front of the media on Friday at Dover International Speedway.
The Richard Childress driver has dropped from second to 12th in the NASCAR Sprint Cup Series play-off after the car he drove to victory at New Hampshire Motor Speedway last Sunday was deemed illegal during a detailed inspection done by NASCAR this week.
Speaking for the first time since his penalties were issued, the former Nationwide Series champion claimed he "wouldn't cheat to win a race in this sport," as he lamented his win being tarnished by the controversy.
Although he led 177 of the race's 300 laps at Loudon last Sunday, Bowyer claimed victory by succeeding at stretching his fuel mileage enough following his final pitstop, while others such as Tony Stewart were unable to do so despite running the same fuel strategy.
Bowyer reiterated that his team had been warned before Loudon after the car he raced at Richmond a week earlier was found to be too close to the tolerances of the height of the quarter-panels on the rear end.
After that, he said RCR took notice of NASCAR's warning and made sure the issue was corrected on the car it would race in the Chase opener, which officials advised would be checked in detail at their R&D facility following the event.
"Who in the right mind, knowing that they're going to take that car, wouldn't have made triple sure that that thing was right before it went to the racetrack?" said Bowyer.
"I could've hit the wall doing a burnout and I could've done a lot of things that other drivers and other teams have done in the post-race celebration this year. We didn't want to push that in NASCAR's face.
"We appreciated them warning us on the fact that we tried to fix the situation. They told us about it Wednesday [before Loudon]. Wednesday the car leaves, so we had about two hours to jump on that car and make sure that that thing was right."
Bowyer questioned the process that NASCAR undertook to measure his Loudon winning car this week at its facility. He believes the magnitude of his penalty is being set as an example by the ruling body to rival teams that may be pushing the limits of the technical regulations.
He is adamant that once the rumours started about his car being outside the tolerances, NASCAR was pushed to penalise him.
"How can a car pass pre and post-race inspection and three days latter get such a huge fine?" said Bowyer. "They take the car apart, completely apart, to measure this thing and in my opinion that's not how the car that was raced on the racetrack.
"Once the rumours started it wasn't long before the penalty. I think NASCAR has a lot of problems with a lot of cars on the racetrack being out of the box and I think they needed to set an example with something.
"I think the penalty doesn't fit the crime. 60 thousandths of an inch folks! Grab a quarter out of your pocket and that's 65 thousandths of an inch thick. Less than the thickness of that quarter right there resulted in a 150-point fine. Before or after this, grab that and ask yourselves if that was a performance-enhancing thing right there!"
Bowyer insists that his car being pushed by a service truck following the race may have well caused it to drop outside NASCAR's box. His #33 Chevrolet ran out of fuel after a celebratory burnout and had to be towed to Victory Lane for the post-race celebrations.
The RCR driver reminded the press that his car passed the post-race inspection and claimed that while officials did not find anything irregular, Jimmie Johnson's and Denny Hamlin machines needed to go through the height-sticks twice at Loudon before being passed.
"Is it possible that a two-tonne wrecker [truck] can bend the quarter panel 60 thousandths of an inch? You have to ask yourselves that," said Bowyer. "I got hit during the race, turned around a couple of times; racing is tough.
"If this thing was knocked out half of an inch you could see something being made, but if it passed the height sticks [in the post-race inspection], the very height sticks that the #48 [Johnson] and the #11 [Hamlin] did not pass, then miraculously enough when that same crew pushed it back around after 20 it passed. That's pretty amazing.
"My dad owns a towing business, has done since I was born in 1979. I know a little something about wreckers. About 15 years ago they took their front bumpers off for this very reason.
"I remember back when people used to come on a snow storm [and say] 'please push me out of the snowbank'. You pushed them out and two days later they showed up with the bodyshop bill in their hand, wanting you to to pay for the damage you did to the back of their car. This could happen."
Richard Childress Racing is hoping to get the penalties handed to Bowyer and his team overturned through an appeal process, which has deferred the suspensions and fines imposed for now.