Hunt: Team Lotus name in good hands
| | |
| --- | --- |
| By Jonathan Noble | Friday, September 24th 2010, 08:48 GMT |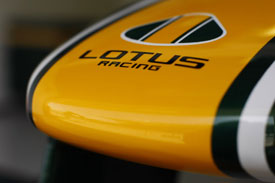 The Team Lotus name has been handed over to very safe hands, claims the man who has owned the brand since the end of 1994.

Despite several aborted attempts over the years to get Team Lotus back into F1, current Lotus F1 boss Tony Fernandes has finally put a deal together with previous owner David Hunt to get the brand back into grand prix racing in 2011.

Hunt, the brother of former world champion James, said he had no doubts that the reborn Lotus F1 team will do its new name proud.

"I think what was important for me was, having spent so much time and effort protecting and nurturing it, I didn't want to hand it over to the wrong people," Hunt told AUTOSPORT.

"I didn't want to hand it over to a situation where in six months time it was back in administration or tugging around at the back three seconds off the pace as a total embarrassment.

"So for me it was very important that someone like Mike Gascoyne was involved, and I had an eyeball-to-eyeball session with him and really understood where he was coming from.

"With Tony and his partners, I had to get a good feel of who they were and whether they were right to take it on, because once I released control then it would be out of my hands.

"I am confident that Tony has demonstrated the commitment. They have thrown the money at it and not held back, they have two paid drivers and there is a very, very strong commitment to take Team Lotus back to the front. They are not here to make up the numbers. Tony really wants to do this. So I think it is probably the very best way we could bring the name back."

Despite agreeing to sell the Team Lotus name that has been a part of his life for the past 15 years, Hunt will not sever all his associations with the brand - and plans to assist the outfit.

"I am going to help in trying to source sponsorship for the team," he said. "Most of the other key areas are covered and I am not going to out-engineer Mike or whatever, so that is an area I can assist.

"Sponsorship is very important and an area where I have a good reputation and a track record. They are tough times out there, but we have the second best brand after Ferrari, a good story and hopefully can find some good multinationals who want to partner with us. And I have 15 years of knowledge with the team which I am sure will be helpful in certain circumstances."