Alonso: Five podiums may win title
| | |
| --- | --- |
| By Edd Straw and Pablo Elizalde | Thursday, September 23rd 2010, 13:44 GMT |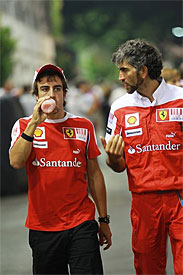 Fernando Alonso believes the driver who gets to finish on the podium in the five remaining races is very likely to be crowned champion, even if he finishes third in all of them.
The Ferrari driver also reckons that a retirement in one of the races will mean saying goodbye to their chances of winning the title.
"The driver who gets five podiums in five races will be very close to the title, because consistency this year has not been the strongest point for anyone this year," Alonso told reporters ahead of the Singapore Grand Prix.
"It has been up and down for everybody.
"Webber now has 182 [sic] after 14 races, which is an average of 14 points, which means that with five third positions it would be more than the average.
"What we need is to do good races and for sure now a DNF would mean bye bye to the championship because there are few races left. So as I said, five podiums would be good for us."
Red Bull's Mark Webber is five points ahead of McLaren's Lewis Hamilton, with Alonso 19 behind the Australian.
Hamilton's team-mate Jenson Button is one point behind Alonso, with Sebastian Vettel two adrift of the Briton.
Alonso, who won the previous race at Monza, believes a good result in Singapore will be important to keep the team's momentum going.
"After winning in Monza for us this race is important, to keep the momentum," he said. "To keep doing well and with a high motivation for everybody. So doing well here would be a continuation of the Monza success that will be good for us."