Barrichello not relying on 2009 form
| | |
| --- | --- |
| By Jonathan Noble and Pablo Elizalde | Thursday, September 23rd 2010, 10:18 GMT |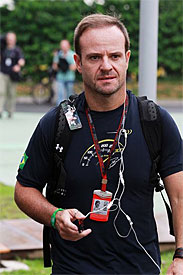 Rubens Barrichello believes he cannot expect his Williams team to be strong in Singapore just because of last year's performance.
But the Brazilian admits he is still positive for the Marina Bay race, especially with his team introducing several updates for its car.
"There are many positives - mainly with the upgrades that we have on the car. They should be the thing that we are looking at," said Barrichello on Thursday.
"With all my experience, the one thing that we cannot do is carry the momentum from last year into this year. It is a completely new year, new car, new everything - different competitors. So I don't think we can start from there.
"But I watched the race back home again and it gives you a boost, but I will start with big intentions but normal feelings."
Nico Rosberg qualified in third last year and was running strongly before he was penalised for a pitlane infringement.
Williams is introducing its last major update of the year this weekend, with a new floor, a new front wing and several other pieces set to boost its performance.
Barrichello admitted he was cautious about the prospect of rain during the weekend, with the reflections from the lights having caused problems in other series like MotoGP when the ground is wet.
"It is a very slippery track and luckily they have done a good enough job for the track not to be as bumpy as it was," he said.
"We have no experience in the wet whatsoever here so we need to understand what the tyres will do and the visibility more than anything. If it rains, like Brazilian-type rain, then we could have problems with visibility. Not so much from the spray but the wet coming onto the visor.
"Honestly, the only experience that I have with that is the go karts, the 12-hour race where we had some rain, but we don't have the spray, so I don't know. We need to wait and see."
The Brazilian was also coy on his future, but he reckons he is very likely to stay at Williams next year.
"You should ask Sam [Michael] or Adam [Parr]. I've said enough. I've done my bit and I am quite cool. I don't see myself out of the team next year but you should ask them what they want to say. I have said enough."