Vasiliauskas claims pole at Valencia
| | |
| --- | --- |
| By Steven English | Sunday, September 19th 2010, 07:34 GMT |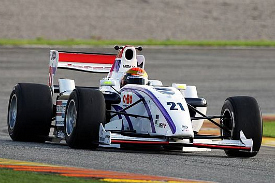 Kazim Vasiliauskas took his second pole position of the year for the season finale at Valencia today.
The Lithuanian rolled out of yesterday's first race at the corner, but responded this morning to pip Jack Clarke late in qualifying.
"I'm really happy," said Vasiliauskas. "Yesterday was probably the biggest crash of my life and I thought the car wouldn't be repaired, but this morning when I arrived everything was ready. The guys worked really well to repair the car in one night."
Clarke had been the first driver to set a time close to the ultimate pace after the mid-session switch to new tyres, while Russians Sergei Afanasiev and Ivan Samarin entered the fray with their own efforts.
Armaan Ebrahim then matched Clarke's time but will start from third because Clarke did his lap first.
Newly-crowned champion Dean Stoneman elected to use his fresh set of tyres early in the session. He sat fastest at the mid-way point but was bundled down to sixth as others improved on their new rubber runs.
Mihai Marinescu, Kelvin Snoeks, yesterday's winner Nicola de Marco and Benjamin Bailly complete the top 10.
Series debutant Ramon Pineiro will start 12th ahead of yesterday's front row starter Benjamin Lariche and Jolyon Palmer, who went for the same tyre strategy as Stoneman.
Pos Driver                       Time       Gap   Laps
 1. Kazim Vasiliauskas           1m25.923s          14
 2. Jack Clarke                  1m26.158s  +0.235  14
 3. Armaan Ebrahim               1m26.158s  +0.235  12
 4. Sergei Afanasiev             1m26.244s  +0.321  10
 5. Ivan Samarin                 1m26.310s  +0.387  13
 6. Dean Stoneman                1m26.365s  +0.442   7
 7. Mihai Marinescu              1m26.452s  +0.529  13
 8. Kelvin Snoeks                1m26.559s  +0.636  12
 9. Nicola de Marco              1m26.587s  +0.664  16
10. Benjamin Bailly              1m26.656s  +0.733  12
11. Philipp Eng                  1m26.723s  +0.800  12
12. Ramon Pineiro                1m26.738s  +0.815  12
13. Benjamin Lariche             1m26.793s  +0.870  12
14. Jolyon Palmer                1m26.801s  +0.878   5
15. Will Bratt                   1m26.876s  +0.953  12
16. Johannes Theobald            1m27.069s  +1.146  10
17. Ricardo Teixeira             1m27.077s  +1.154  15
18. Natalia Kowalska             1m27.494s  +1.571  12
19. Plamen Kralev                1m28.283s  +2.360  12