McLaren: Singapore crunch race for title
| | |
| --- | --- |
| By Jonathan Noble | Friday, September 17th 2010, 11:16 GMT |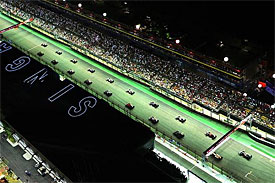 The Singapore Grand Prix will be crucial in providing a clear picture of which team has the edge for the final run-in of the world championship battle.
That is the view of title contender McLaren, who believes the high-downforce nature of the street circuit will deliver proof of whether the progress it has made with its car - allied to any performance loss rivals have suffered with the flexi-wing clampdown - have changed the competitive picture.
The last two races in Belgium and Italy took place on lower downforce circuits, which did not play to the strengths of the pace-setting Red Bull Racing car.
However, Singapore marks a return to the kind of stomping ground that Red Bull's RB6 has excelled at this season - so will show up just how close the title fight has become.
World champion Jenson Button said: "The Singapore Grand Prix will be a very interesting weekend because I think it'll give us a clearer idea of the destiny of the world championship.
"The last time we were at a low-speed, high-downforce track was in Hungary back at the start of August; our car wasn't particularly competitive there, and maybe we haven't had a properly representative view of the top teams' relative pace because we've just visited two high-speed circuits.
"But, equally, a lot has changed since that race in Budapest - not least, some quite hefty revisions to the rulebook regarding bodywork flexibility and, additionally, a lot of work by the engineers at the MTC [McLaren Technology Centre] to ensure our car is now better suited to slower circuits.
"Singapore will be interesting for all of us - we'll not only get an idea of the speed of the Ferrari and Red Bull, but we'll get to see for the first time whether all our efforts over the past two months have helped put us back in the ballpark at high-downforce tracks."
McLaren team principal Martin Whitmarsh added: "It's the first race at a low-speed, high-downforce track since the Hungaroring back in August. It's also the first high-downforce track we've visited since the FIA tightened up its regulations on flexible bodywork, so it's likely to give us a much clearer idea of the respective pace of the leading teams after two less-representative events in Belgium and Italy.
"This is a race the whole team looks forward to enormously, and we travel to Singapore with a number of new ideas to try out on our cars, feeling positive that we'll once again be in a position to race at the front."