Minassian pays tribute to Peugeot 908
| | |
| --- | --- |
| By Simon Strang | Monday, September 13th 2010, 16:03 GMT |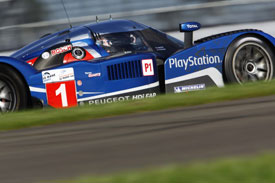 Nicolas Minassian has paid tribute to the Peugeot 908 HDi after winning his final race with the car in the AUTOSPORT 1000km at Silverstone.

Though several of his team-mates will race the car at Petit Le Mans and China later this year, the Frenchman is not scheduled to go, so Sunday was his last run in the all-conquering turbo-diesel, having won seven endurance races with it since 2007.

"For me it was my last race with the 908, so I am very happy to have won with it," he said after the race at Silverstone. "I've won lots of races with it and I am very proud to have been driving it."

"It has been the best car I have ever driven. It is part of the history of racing - that car. It's been fast and it's been difficult to beat, since the beginning and for four years now. So many pole position... Okay we have not won everything, but nearly every major big race we have won."

Newly-crowned Le Mans Series champion Stephane Sarrazin, who took back-to-back poles at Le Mans with the car in 2008 and '09, and won the LMS crown with Oreca's privately-run 908 agreed: "It's the best car I have ever driven for sure. It's such a quick car. It's amazing.

"The speed we carry through Stowe and Becketts is amazing, it is so fast for the weight of the car. The engine is just so powerful. Peugeot made such a great car and I only hope the next one is as good."

Sarrazin, who is set to race the car at Road Atlanta and Zhuhai, added: "I am going to miss this car. It has been a part of my career now for four years. I finished twice second at Le Mans. I never won, but I was very close two times. I have won races and taken pole positions. I have enjoyed it a lot.

"I always found I could push a lot with this car and I could be fast quite easily. I just had a very good feeling with this car. This one I loved so much and I just gelled with it."