Button hails 'great' second place
| | |
| --- | --- |
| By Matt Beer and Pablo Elizalde | Sunday, September 12th 2010, 13:54 GMT |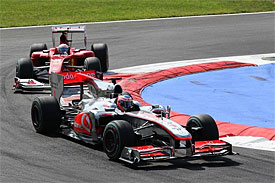 Jenson Button hailed his second place at the Italian Grand Prix as a great result despite losing out to Fernando Alonso in the race.
Button, starting from second position, took the lead of the race at the start and led until he made his first and only pitstop.
Alonso pitted a lap later and rejoined right in front of Button, who could do nothing to stop the Spaniard from winning the race.
The result, however, was a good boost for Button's championship charge, as he finished ahead of Mark Webber and Lewis Hamilton retired.
"We had a good weekend and to come away with second is a great result," said Button, now 22 points behind Webber in the standings. "We wanted some points, for all three of us here, and we have done well for our championship hopes heading out of Europe."
Button, who finished less than three seconds behind Alonso, admitted his McLaren was not as quick as the Ferraris.
"I don't think we quite had the pace today compared to Ferrari," he said. "But it was all going pretty well, I was pretty happy with the car. And then we decided to pit one lap earlier than Fernando.
"When I exited the pits, I had very little grip on the prime tyre. Lots of shuddering, which means the tyre just isn't working. So a little bit disappointing to find myself in that position and then see Fernando coming out of the pits in front.
"But we had a great weekend and to come away with a second is a good result. Obviously you want the top step, but some good points and I think for both of us we've done very well for our championship hopes and it's good heading out of Europe with a good points finish."
The world champion said the race had been hard with Alonso right behind right from the beginning.
"The start was good. Obviously Fernando came over quite a bit at the start, but I had enough room to squeeze up the inside at Turn 1. And then the rest of the first lap was pretty tough, because straightline that these guys have compared to me because I'm running higher downforce, it made it very tricky to hold off the challenges.
"So I spent most of the race looking in my mirrors, making sure Fernando wasn't close enough. It's so difficult around here to know whether the car is right up behind you or not. I was actually watching the TV screens to see where he was behind. A lot of pressure."
Button conceded that pitting ahead of Alonso and Massa was not the right decision in the end.
"I think everything is an option. You have to keep yours eyes open to every situation. We obviously thought it was the right decision to come in a lap earlier than these two - but looking now I don't think it was the right call.
"I don't feel it worked for us today. We got a good result out of it today, hopefully we will be as strong as this in Singapore."