High downforce Audi pleases McNish
| | |
| --- | --- |
| By Simon Strang | Saturday, September 11th 2010, 17:04 GMT |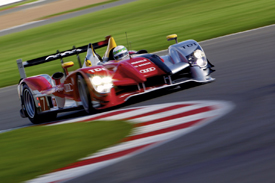 Allan McNish believes it is still too early to tell which of the two turbo-diesel prototypes holds the performance advantage ahead of the AUTOSPORT 1000km, despite taking pole position at Silverstone on Saturday.
Audi has brought a new high-downforce package for its R15 TDI to use in the Le Mans Series finale.
And while McNish is convinced that it is a step forward for the machine which won the Le Mans 24 Hours in June, Peugeot's tribulations in qualifying, and inconsistent conditions in practice mean that the picture remains unclear in terms of overall pace.
"We went in to qualifying not really knowing what we could do and no idea what Peugeot could do, but knowing that they would give it everything as we would," he said. "In practice, every time you went out there was a lot of traffic, alternatively there was a little of rain and it was dry on some parts of the track and not others.
"It was so changeable in every session so I wasn't convinced that we would be able to take pole, but I knew that we would be up there."
The Scot explained that the new aero package had made an impact on the R15 TDI's handling: "You can't just say the changes are aerodynamic because it all goes together. Obviously there is an aero change and it's a big improvement. It's a little bit easier to drive, bit more consistent, and I think in the windy conditions in qualifying it helped us a bit.
"It probably favoured us a little bit more than it would have done if it had been calm, at the same time we have worked a little bit on the mechanical side of the car, you develop all parts of the package. Overall we have made some steps forward in the summer and we will continue to learn about it, which in reality, we are still in the early stages of..."
McNish added that he was delighted to take pole position for Audi, his and the German marque's first since Road America in 2007, and his first at Silverstone since the 1990 FIA International Formula 3000 race.
"It has been a long time," he said. "It's definitely good to be back in the fight for pole in qualifying. We always know we are going to be in the fight during the race, but it is quite nice to know that we can attack.
"With our new aero package we come into the race fully equipped. That was something that at Spa [with low downforce] was a little bit frustrating, but it had the desired effect at Le Mans."