Ekstrom open to NASCAR future
| | |
| --- | --- |
| By Diego Mejia | Saturday, September 11th 2010, 15:14 GMT |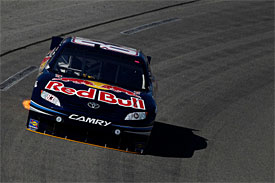 Mattias Ekstrom is not closing the door on doing further NASCAR outings this year, and also on considering a future in the Sprint Cup series.
The Swede will compete for a second time this year at NASCAR's top level this weekend, driving the #83 Red Bull Toyota at Richmond after first driving for the team last June at Sears Point, where he finished 21st after leading the race.
The 32-year-old has followed NASCAR for the past few years and had already pursued the idea of racing on an oval for some time, with circumstances playing into his hands this season to enable him to do so.
Red Bull's regular driver Brian Vickers was sidelined from racing after being diagnosed with blood clots last May, opening the chance for a number of drivers to fill in at the wheel of the #83 Toyota Camry for the rest of the season.
Although Reed Sorenson, who has driven in most races since then, is expected to return to the car next weekend at Loudon, Red Bull officials did not close the door on the possibility of Ekstrom driving for the team again this season.
The two-time DTM champion has a contract with Audi which links him to the manufacturer for now, but beyond that he remains open about his future.
"I came here and did the race at Sonoma and said afterwards that I'd like to do an oval," Ekstrom told AUTOSPORT. "What happens in the future nobody knows, but one thing is for sure, I will try to collect all the experience I can this weekend and I will do the best job I can and then we will see what happens.
"At the moment I have a contract with Audi which I'm happy for and I really enjoy the DTM and there are some races to go this year, but I decided I wanted to try this."
Ekstrom is fond of the close competition of NASCAR, which is what attracted him to compete in the Sprint Cup when given the chance. While the DTM also remains a very competitive championship, he enjoys having the chance to compete in a bigger field and with fewer team-mates.
"What I like the most is the racing," Ekstrom said. "You have many competitive cars and many competitive teams and DTM is also competitive but you have only 20 cars and then you have to drive with a lot of respect for your team-mates.
"Here there's 43 cars and you've got to be good because if not, you're going to be way down. The competition is what really attracts me and I really enjoy that."
NASCAR convert Juan Pablo Montoya has been in close contact with Ekstrom on his NASCAR visits and has given him advise on his transition to the heavy but powerful Cup cars and the series itself.
The Red Bull racer appreciates Montoya's input, while he has also looked for advice from other top drivers in the series.
"I liked [Montoya's] style when he was doing F1 and I've spent some time with him," said Ekstrom. "He's a nice guy and very competitive. He's been giving me all the info, what I should think of, all the pros and cons. I appreciate all the help I got from him because without that I would be struggling a lot more.
"I also got some help from Jimmie Johnson and I mean, you need to have some friends in this world when you come as a rookie in order to survive. I think what is really important is to do this with a lot of passion."
Ekstrom showed good consistency and quick progress during Friday's practice sessions at the 0.75-mile Richmond International Raceway, but struggled in qualifying and will start from 42nd on the grid on his oval debut on Saturday.
Following the race he is expected to return to Europe to compete in the next round of the DTM at Oschersleben.