Q & A with David Richards
| | |
| --- | --- |
| By Simon Strang | Saturday, September 11th 2010, 11:57 GMT |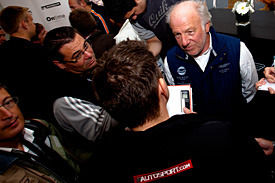 Following the announcement that Aston Martin has committed to a full factory LMP1 programme for the 2011 Le Mans 24 Hours, with its own chassis/engine combination, company chairman David Richards spoke to AUTOSPORT about the famous sportscar maker's plans and aspirations for the project.
Q. When did you finally take the decision to green-light a project you have been considering for some time?
David Richards: I don't think you ever say 'that is the moment in time when the decision was made', it was more of a process to go forward with it. The announcement of the technical regulations, putting our finances into place, agreeing the equivalence with the ACO, all these things quietly add up and then finally you say 'right, now is the time to press the button'. Recent meetings with the ACO prior to the holidays were a key point in time and we have been full speed on it for about two months.
Q. You said recently that you didn't want to go back to Formula 1, do you see this as part of your swansong?
DR: I think there is a slight misunderstanding there. What I said was in an 'operational role', and it's the same with the rally team. I'm taking an operational role in this programme for the next couple of years, and I don't intend to retire for some time yet, but I don't see myself sitting on the pitwall for the rest of my life. I still see Prodrive continuing in sportscar racing with Aston Martin, the World Rally Championship with the Mini and who knows? Maybe into Formula 1 in two or three years' time again.
Q. This car is obviously designed to win Le Mans outright, rather than just the 'petrol' division?
DR: I'd never known anyone say I'm designing a car to finish third - we're a doing car to try and take the petrol battle right to the diesels and have a equal performance with them at Le Mans.
Q. With that in mind do you need to shake up the driver line-up and change a lot of things within the team?
DR: There will be lots of things where we have to raise our game. Really it's a David and Golliath effort against the Audis and the Peugeots and other large manufacturers. We relish that challenge and I think it is part of the spirit and the DNA of Aston Martin.
Q. How long will the programme last?
DR: Well the immediate programme will be for two years, but Aston Martin's commitment to sportscar racing is long-term.
Q. With that in mind, how many races and how much testing do you have planned with the car before Le Mans next year?
DR: The car won't turn a wheel until early 2011. The engine should be done by November we believe, but I don't see us on a track until January. We will do as much testing and racing as we can. I would hope we will have at least one car at Sebring next year.
Q. How much pressure does this put on Prodrive with two full-blown factory programmes running simultaneously?
DR: We have done it many times in the past. We are not a small organisation. We have 360 people at Banbury, and another 70 at our composites division based in Milton Keynes. We can tap into the resources of Aston Martin if necessary. I'm not saying it's an easy undertaking but we are geared up for it. We wouldn't have gone ahead with it if we didn't think we could do it competitively.
Q. How aggressive will the development programme be?
DR: It has to be. George Howard-Chappell has no spare time and to that end we have had to, with the understanding of the ACO, withdraw from China because we have had to roll up our sleeves and make a full commitment to getting this car up and running quickly now.
Q. What was the decision behind not running a coupe?
DR: I think there were technical pros-and-cons for both, but in manufacturing terms it is clearly an easier task to build an open-top sportscars than having to worry about things like the doors. One of the key issues was when the regulations precluded the advantage for slightly larger restrictions for air conditioning. That really gave a bit of a parity on the engine performance then so...
Q. How do you personally feel about this?
DR: We've had our own little triumphs along the way so I don't think we have gone without success, but actually to have the opportunity to fight right at the front is what anyone in motor racing wants to do. It's shared by everybody within Aston Martin as well. Le Mans is the greatest race to win for a sportscar manufacturer, let's get out there. Most normal organisations the size of Aston Martin would retire from a challenge like this, but that's not what we are about. We have the culture of a small company punching above its weight, both in our road cars and our aspirations in motorsport.
Q. How much of challenge was it to convince the ACO to work towards a more equalised set of regulations, given the support it receives from Audi and Peugeot?
DR: They have got a lot of commercial clout, but the interesting thing is from a French perspective and a Le Mans perspective is how important the British support for the event and the series is. The following, and you've only got to look at the crowd numbers to see how many people go from Britain, what interest there is over in Britain and the attendance here at Silverstone, so for them it was a very important commercial decision to make sure that we are treated fairly.