Hamilton edges Vettel in final practice
| | |
| --- | --- |
| By Matt Beer | Saturday, September 11th 2010, 10:02 GMT |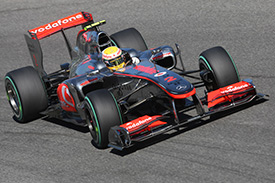 Lewis Hamilton used the non-F-duct fitted McLaren to narrowly beat Sebastian Vettel and Fernando Alonso to the fastest time in a fiercely competitive final practice session at Monza, which saw the top five cars covered by just 0.226 seconds.
Felipe Massa and Jenson Button completed that lead quintet, but there was more bad news for title contender Mark Webber, whose car ground to a halt after nine laps, leaving him seventh.
McLaren dominated much of the hour. Hamilton had been the quicker of the duo after their first runs, but Button, running with the F-duct, turned the tables when they next came out - helped in part by his team-mate getting baulked by Tonio Liuzzi's Force India on the run towards Ascari.
Button then trimmed his time from 1m22.858s to 1m22.768s on the softer tyres with six minutes to go, before Alonso delighted the home crowd by putting Ferrari on top with first a 1m22.656s, then an improvement to 1m22.644s next time around.
Several drivers beat Alonso's pace in the first two sectors then lost out either to traffic or the Spaniard's superior pace through the Parabolica.
But with just under two minutes to go, Hamilton put a lap together, grabbed a useful tow from Adrian Sutil's Force India on the back straight, and deposed Alonso with a 1m22.498s.
The Ferrari driver's hopes of responding were dash when Alonso encountered Kamui Kobayashi's Sauber halfway round the Parabolica, prompting some fist-waving from the double champion, and in the end Alonso was pushed back to third as Vettel slipped up to second with an excellent last-gasp lap.
Massa recovered from a high-speed visit to the Lesmo gravel to take fourth ahead of Button, with Nico Rosberg sixth in the lead Mercedes.
Webber's session came to an early end when his Red Bull suddenly lost power and shut down at the first chicane - meaning the Australian has had mechanical problems in two out of three practice sessions this weekend.
Williams had a strong session, with Nico Hulkenberg eight and Rubens Barrichello 11th, split by Robert Kubica (Renault) and Sutil.
The only other incident of note was Jaime Alguersuari (Toro Rosso) emulating Massa's Lesmo mistake. Like the Brazilian, he stayed away from the barriers.

Pos  Driver         Team                    Time              Laps
 1.  Hamilton       McLaren-Mercedes        1:22.498            19
 2.  Vettel         Red Bull-Renault        1:22.545  + 0.047   21
 3.  Alonso         Ferrari                 1:22.644  + 0.146   15
 4.  Massa          Ferrari                 1:22.648  + 0.150   16
 5.  Button         McLaren-Mercedes        1:22.724  + 0.226   19
 6.  Rosberg        Mercedes                1:22.946  + 0.448   17
 7.  Webber         Red Bull-Renault        1:23.082  + 0.584   9
 8.  Hulkenberg     Williams-Cosworth       1:23.129  + 0.631   18
 9.  Kubica         Renault                 1:23.209  + 0.711   20
10.  Sutil          Force India-Mercedes    1:23.303  + 0.805   19
11.  Barrichello    Williams-Cosworth       1:23.450  + 0.952   19
12.  Buemi          Toro Rosso-Ferrari      1:23.673  + 1.175   20
13.  Schumacher     Mercedes                1:23.896  + 1.398   21
14.  Kobayashi      Sauber-Ferrari          1:23.908  + 1.410   24
15.  Alguersuari    Toro Rosso-Ferrari      1:23.909  + 1.411   17
16.  Petrov         Renault                 1:23.967  + 1.469   19
17.  de la Rosa     Sauber-Ferrari          1:24.191  + 1.693   19
18.  Liuzzi         Force India-Mercedes    1:24.439  + 1.941   15
19.  Trulli         Lotus-Cosworth          1:25.788  + 3.290   14
20.  Kovalainen     Lotus-Cosworth          1:25.925  + 3.427   16
21.  Glock          Virgin-Cosworth         1:26.434  + 3.936   18
22.  di Grassi      Virgin-Cosworth         1:26.682  + 4.184   19
23.  Senna          HRT-Cosworth            1:27.471  + 4.973   18
24.  Yamamoto       HRT-Cosworth            1:28.730  + 6.232   14

All Timing Unofficial