McNish on top in drying session
| | |
| --- | --- |
| By Matt Beer | Saturday, September 11th 2010, 09:08 GMT |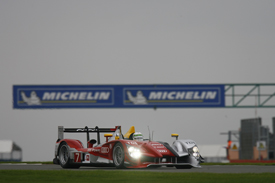 Allan McNish put Audi back on top in a damp final practice session for the AUTOSPORT 1000kms at Silverstone.
Though little rain fell during the hour, the track began wet from early rainfall and took a long time to dry.
It was almost halfway through the session before teams tried intermediate and then soon afterwards slick tyres.
That led to a frantic rush of fast times on slicks in the final quarter of an hour as the track finally started delivering competitive times. McNish swapped the top spot with ORECA Peugeot driver Nicolas Lapierre and Anthony Davidson in the works Peugeot several times before his late 1m44.043s lap put first place beyond everyone else's reach.
Unlike McNish, Lapierre did not improve on his last lap and ended up 1.4 seconds slower than the pacesetter.
The #8 Audi and the #13 Rebellion Lola, driven by Timo Bernhard and Andrea Belicchi respectively, pushed Davidson's #1 Peugeot down to fifth by the end.
Rebellion's Nicolas Prost had managed to get among the diesels during the intermediate tyre phase. His #12 car was finally classified sixth.
Johnny Mowlem produced an outstanding lap on slicks to hold third for a while in the LNT Ginetta Zytek, before being pushed back to seventh ahead of the Drayson Lola, Signature Lola-Aston Martin and the LMP2-pacesetting RML Lola-HPD driven by Ben Collins.
Strakka had led LMP2 at first - and indeed was fastest overall for some time in Danny Watts' hands when the track was at its wettest. But it did not set any quick times in the dry and fell to 19th overall.
The works Aston Martins also had a tough session, with the #007 car sidelined for much of the hour after Adrian Fernandez aquaplaned off and damaged the car having tried slicks too soon.
GT2 saw as much shuffling as the prototypes in the changing conditions, with Allan Simonsen eventually going quickest in the Farnbacher Ferrari, a second clear of the JMW Aston Martin. With the Schnitzer BMW third and the Spyker fourth, the top Porsche was the #77 Felbermayr Proton entry back in fifth in class.
Pos  Cl    Drivers                       Car                Time
 1.  LMP1  Kristensen/McNish             Audi               1m44.043s
 2.  LMP1  Lapierre/Sarrazin             Peugeot            1m45.423s
 3.  LMP1  Bernhard/Capello              Audi               1m45.986s
 4.  LMP1  Belicchi/Boullion             Lola-Rebellion     1m47.806s
 5.  LMP1  Minassian/Davidson            Peugeot            1m47.895s
 6.  LMP1  Prost/Jani                    Lola-Rebellion     1m48.696s
 7.  LMP1  Burgess/Mowlem/McMurry        Ginetta-Zytek      1m49.564s
 8.  LMP1  Drayson/Cocker                Lola-Judd          1m50.568s
 9.  LMP1  Ragues/Mailleux/Ickx          Lola Aston Martin  1m50.644s
10.  LMP2  Erdos/Newton/Collins          Lola-HPD           1m50.848s
11.  LMP1  Mansell/Mansell               Ginetta-Zytek      1m51.662s
12.  LMP2  Amaral/Pla                    Ginetta-Zytek      1m52.391s
13.  LMP2  Ojjeh/Greaves/Ebbesvik        Ginetta-Zytek      1m52.972s
14.  LMP2  Case/Babini/Leo               Lola-Judd          1m54.478s
15.  LMP2  Gates/Garofall/Phillips       MG Lola AER        1m54.492s
16.  LMP2  Lahaye/Nicolet                Pescarolo-Judd     1m54.718s
17.  LMP1  Barazi/Hancock/Mucke          Lola Aston Martin  1m56.085s
18.  LMP2  Schell/Da Rocha               Courage-ORECA      1m56.579s
19.  LMP2  Leventis/Watts/Kane           HPD                1m57.932s
20.  FLM   Zacchia/Lombard               FLM ORECA          1m58.427s
21.  LMP2  Pirri/Cioci/Perazzinii        Lola-Judd          1m59.568s
22.  LMP2  Frey/Bruneau/Rostan           Radical-Judd       1m59.998s
23.  FLM   Firth/Hughes                  FLM ORECA          2m00.550s
24.  FLM   Barlesi/Cicognani/Chalandon   FLM ORECA          2m00.742s
25.  LMP1  Fernandez/Meyrick/Primat      Lola Aston Martin  2m01.218s
26.  FLM   Pillon/Verdonck/Hollings      FLM ORECA          2m02.750s
27.  GT2   Farnbacher/Simonsen           Ferrari            2m03.510s
28.  GT2   Bell/Turner                   Aston Martin       2m03.587s
29.  GT2   Muller/Werner                 BMW                2m03.827s
30.  GT2   Dumbreck/Coronel              Spyker             2m03.847s
31.  GT2   Lieb/Lietz                    Porsche            2m03.874s
32.  GT2   Westbrook/Holzer              Porsche            2m04.020s
33.  GT2   Perez Companc/Russo           Ferrari            2m04.789s
34.  GT2   Bruni/Melo                    Ferrari            2m05.030s
35.  GT2   Ehret/Quaife/Kaffer           Ferrari            2m05.149s
36.  GT2   Kirkaldy/Mullen               Ferrari            2m05.208s
37.  GT2   Alesi/Fisichella/Vilander     Ferrari            2m05.455s
38.  GT2   Ragginger/Ried/Dumas          Porsche            2m05.702s
39.  GT1   Gardel/Goueslard/Rees         Saleen             2m05.827s
40.  GT2   Pilet/Narac                   Porsche            2m06.524s
41.  FLM   Kraihamer/De Crem/Delhez      FLM ORECA          2m08.184s
42.  GT2   Giroix/Goethe                 Lamborghini        2m19.901s
43.  FLM   Kutemann/Basso/Hartshorne     FLM ORECA          2m31.461s
44.  LMP2  Moreau/Hein                   Pescarolo
45.  LMP2  Ordonez/De Pourtales/Kennard  Lola-Judd