Owen on Island race one pole
| | |
| --- | --- |
| By David Wright | Saturday, September 11th 2010, 06:28 GMT |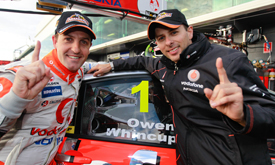 Team Vodafone's Steve Owen has taken pole position for race one of the L&H 500 at Phillip Island.
Owen beat Warren Luff to pole, with the two cars on the front row being shared with the top two drivers in the championship, Jamie Whincup and James Courtney.
Behind them are series regulars Shane van Gisbergen, with Garth Tander heading a closely-matched group including Jason Bargwanna, Jack Perkins (driving a Ford!), Luke Youlden, Todd Kelly despite a late off and David Reynolds in the car he will be sharing with Will Davison. Mark Skaife completes the top 10 in the other Team Vodafone car.
An early off for James Moffat, son of touring car legend Allan, in the car he will be sharing with Steven Richards, the son of another touring car legend, will see them start from the back in 29th position.
Pos  Driver                Car                   Time
 1.  Steve Owen            Holden Commodore VE   1m32.3273s  
 2.  Warren Luff           Ford Falcon FG        1m32.5503s  +0.2230s
 3.  Shane Van Gisbergen   Ford Falcon FG        1m32.8630s  +0.5357s
 4.  Garth Tander          Holden Commodore VE   1m32.9658s  +0.6385s
 5.  Jason Bargwanna       Holden Commodore VE   1m32.9768s  +0.6495s
 6.  Jack Perkins          Ford Falcon FG        1m33.0122s  +0.6849s
 7.  Luke Youlden          Ford Falcon FG        1m33.0242s  +0.6969s
 8.  Todd Kelly            Holden Commodore VE   1m33.0411s  +0.7138s
 9.  David Reynolds        Holden Commodore VE   1m33.0729s  +0.7456s
10.  Mark Skaife           Holden Commodore VE   1m33.1895s  +0.8622s
11.  Jason Richards        Holden Commodore VE   1m33.2307s  +0.9034s
12.  Steven Johnson        Ford Falcon FG        1m33.2481s  +0.9208s
13.  Dean Canto            Ford Falcon FG        1m33.2546s  +0.9273s
14.  David Besnard         Holden Commodore VE   1m33.3065s  +0.9792s
15.  Michael Caruso        Holden Commodore VE   1m33.3097s  +0.9824s
16.  Greg Murphy           Holden Commodore VE   1m33.3287s  +1.0014s
17.  Dean Fiore            Ford Falcon FG        1m33.5194s  +1.1921s
18.  Jonathon Webb         Ford Falcon FG        1m33.6898s  +1.3625s
19.  Owen Kelly            Holden Commodore VE   1m33.8094s  +1.4821s
20.  Andrew Thompson       Holden Commodore VE   1m33.8457s  +1.5184s
21.  Craig Baird           Holden Commodore VE   1m33.9172s  +1.5899s
22.  Tony D'Alberto        Holden Commodore VE   1m33.9884s  +1.6611s
23.  Matthew Halliday      Holden Commodore VE   1m34.0569s  +1.7296s
24.  David Brabham         Ford Falcon FG        1m34.0743s  +1.7470s
25.  Mark Noske            Holden Commodore VE   1m34.0890s  +1.7617s
26.  Paul Morris           Holden Commodore VE   1m34.3146s  +1.9873s
27.  Taz Douglas           Holden Commodore VE   1m34.6364s  +2.3091s
28.  Ant Pedersen          Ford Falcon BF        1m34.7346s  +2.4073s
29.  James Moffat          Ford Falcon FG       
30.  Marcus Zukanovic      Holden Commodore VE