Senna trusts he will see out season
| | |
| --- | --- |
| By Jonathan Noble | Friday, September 10th 2010, 13:04 GMT |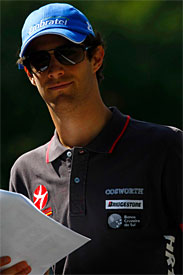 Bruno Senna is confident he will see out the season for HRT - as he bids to finalise his plans for 2011 in the next few weeks.
With Sakon Yamamoto having said at the last race that he was set to finish the campaign for HRT, having joined the outfit from the British Grand Prix, there had been speculation that Senna could be forced to step aside for Karun Chandhok at some point.
Senna insists, however, that as far as he knows he will be completing the year – and his priority now is on extending his future in F1.
"I suppose I will be in the car until the last race," he said. "I have a fairly fixed place now until Abu Dhabi.
"Right now I am looking at doing my best here because it is where I can guarantee my future. At the end of the day my objective is to be in F1 next year - whether it is in this team or another team we will have to wait and see.
"I wish I had everything sorted out for next year right now. It is not the case yet, but I hope to have it sorted as soon as possible."
Senna has endured a fairly frustrating season for HRT, but has said he is not disheartened by the circumstances of the campaign.
"It is not ideal, by any means, but it is the situation I have to contend with," he said. "I have to make the most out of this situation and that is the only way I look at it.
"If I look at it from a negative point of view I would lose motivation and I would lose the performance, so the only thing I can do is to keep doing the best I can and hope it is good enough to continue in F1. I need to do a good showcase for whoever I am driving for next year."