Red Bull sure Webber can hold his nerve
| | |
| --- | --- |
| By Jonathan Noble | Friday, September 10th 2010, 09:41 GMT |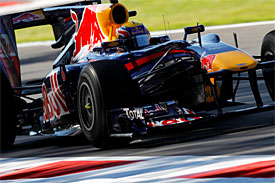 Red Bull Racing has no doubts that Mark Webber can hold his nerve until the end of the campaign - even though he is entering the unchartered waters of a high-pressure world championship title fight.
With championship rivals Sebastian Vettel, Jenson Button and Fernando Alonso all needing strong results in Italy this weekend to get themselves firmly back in the hunt, Webber has a great opportunity to turn the championship into a straight two-way contest with Lewis Hamilton soon.
And although it will be the first time in his career that Webber has faced such a situation – having seen last season's title hopes fall apart in the second half of the year – the Australian's team principal Christian Horner has complete faith in his ability to keep the momentum up.
"I think inevitably the closer to the end you get, the more tension creeps in - but Mark is a guy with pretty broad shoulders - and I have no doubt in his ability or nerve," said Horner at Monza.
"I think there are a few more chapters left in this world championship and it would be naïve and hasty to say now that it was just between Mark and Lewis. I think Fernando, Jenson and obviously Sebastian are still very much contenders for this title."
Horner believes Webber has never driven as well as he is doing now – and thinks the form is good enough to take him all the way to the crown.
"Mark is in a great place at the moment," explained Horner. "He is driving fantastically well. He has found a great harmony in the car and is in great form. There are six races to go.
"This race will be a challenge for us, we know on paper it is our weakest circuit but he has put together a pretty mature campaign so far and I think it is all going to be about who is the most consistent combined with performance, and who makes the least mistakes before the end of the season that will ultimately will this title.
"After the summer break last year the wheels came off the campaign – but he has maintained a very, very high level this year. He has come back refreshed and recharged after the summer break."
He added: "Mark is in a fantastic position. He has driven brilliantly well this season and he has got himself into a strong position with five races to go. He is in the form of his career.
"If you look at Spa for example, he was the only driver who didn't make a mistake in very tricky conditions. So he needs to keep delivering at the level he has been, and then he has a great chance. However, I would not either rule out Sebastian at this stage either – so as a team we will continue to support both of our drivers in the best way that we possibly can."
And after Vettel's crash with Button at Spa, Horner knows how costly errors can be for any of the leading drivers' title ambitions.
"I think it is vital for all the drivers now to not drop scores, and inevitably as we move towards the end of the championship there are a few drivers under a bit of pressure in terms of engine allocation," he said.
"It is going to be fascinating to see how it unfolds over the next few races. Here, particularly, should play to McLaren's strengths. We have some tracks coming up that should suit our package and then there will be a couple of tracks that one could say should be pretty neutral between us and McLaren, and of course Ferrari."
When asked if he had spoken to Vettel after Belgium, Horner said: "Sebastian is a big boy. He has reflected long and hard after Spa. He is a young guy, he is still learning and there are valuable lessons that he will have taken from Spa, and I am convinced he will come back here even stronger. It was just one of those things."