Al Qassimi and Orr escape big crash
| | |
| --- | --- |
| By David Evans | Friday, September 10th 2010, 08:30 GMT |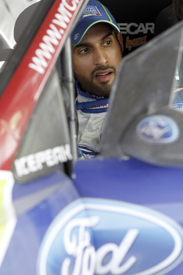 Factory Ford driver Khalid Al Qassimi escaped unhurt from his accident in Rally Japan this morning and is already on a plane to Lebanon to prepare to fight for this year's Middle East Rally Championship.
Al Qassimi suffered his second big crash in succession, having shunted his Focus on Rally Finland as well. The Abu Dhabi driver went off the road on the third stage of Rally Japan and crashed into a tree. He and co-driver Michael Orr were trapped in the car, which was then reportedly struck by Martin Prokop's Ford Fiesta S2000.
"Michael could hear rally cars coming," said Al Qassimi. "We were trying to get out of the car and a rally car hit the bottom of our car, but they didn't stop. It was Martin Prokop.
"There was no okay sign and we were still in the car. I cannot blame him but if there was something wrong with one of the crew... We could not get out because the car was messed up and on its side."
The crew eventually climbed out of the driver's side door, but there was no chance of continuing in the event.
Prokop denied he had hit the Focus, saying: "I couldn't see anything, then when I came around the corner his car was in the road. I started to slide and we hit a tree, I think the tree hit his car, but we didn't."
Al Qassimi will now put the crash out of his mind as he prepares for a must-win Rally Lebanon. He will drive a brand new Fiesta S2000 on the event.