Q & A with Mark Webber
| | |
| --- | --- |
| By Jonathan Noble and Rob Schatten | Thursday, September 9th 2010, 15:55 GMT |
After his second place at Spa, Mark Webber looks like Red Bull's main challenger for the championship in the six remaining races.
The Australian, however, says everything is to play for and he is refusing to carry the championship favourite tag.
AUTOSPORT heard from Webber ahead of this weekend's Italian GP.
Q. Judging by the speed of the Red Bull this season and the way you're driving, a lot of people say you're the man in the box seat to take the title. Do you consider yourself the favourite?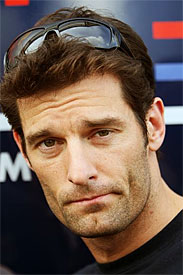 Mark Webber: I don't consider myself the favourite. The position is healthy at the moment, I have quite a few points - not as many as Lewis, but I'm in a pretty good position points-wise and that doesn't come with a day's work, it takes a while to get to that position. I'm looking forward to the weekend, seeing how it goes here – we're not in Abu Dhabi yet. It's ebbed and flowed a bit over the course of the year but mostly it's been the same guys at the front.
It's been a very rewarding season so far. We hope to have some good highlights around the corner in terms of having some good races and that will only help towards trying to get the end goal.
Q. The difference between this season and your other seasons is that this year you've been at the front for 13 races. That must mean something for you...
MW: Very, very rewarding. If you look back at Monaco, Barcelona… some of the victories have been very rewarding for me personally. Budapest was a different type of victory but to get that was also nice. The team have performed incredibly well this year, you've got to give a lot of credit to them.
I'm driving well, I feel comfortable in the car and it's been a good campaign for us up to now. For sure, we've had some missed opportunities, but every team has had that so far. I'm really enjoying my driving and performances keep coming.
Q. Do you think other teams have been surprised by you?
MW: Maybe, because I'm not as young! Probably not within the team, but I'm not young, I'm not new on the scene, but I've had a good opportunity the last two years and felt that I've done OK with that, and particularly this year so far. I'm not at the front of my career, I'm at the back of my career in many ways, but still driving pretty well, but my experience is good to have.
Of course, I would like to be 22 and have this car as well…
Q. How big a difference in points between two team-mates should there be before the team takes the decision which driver to favour?
MW: Mate, that is a question for the team. I don't ask for it, it's a decision the team might have to make in the future. McLaren as well might have to be in this position.
Q. Do you think this and Singapore could be two races where a big part of this championship could be defined?
MW: This weekend could be very important as well. A few big people didn't have any points in Spa. Every race gives the same number of points but as you get towards the end of the season you run out of opportunities get these points. Every weekend is important to all the drivers, we all know that. Singapore is the next race so we'll have more of an idea what's happened after this weekend.
Q. Would you expect Sebastian to support you if it gets to that point?
MW: Well, if it gets into a ridiculous position, obviously, but that's a decision for the team to make. If it's a position that would help either one of us to go and challenge a competitive rival to get more of a chance to try and compete against that person, then one of us would probably do it.
Q. Is the fact that we are talking about this issue a big reward for you, given that at the start of the season it seemed that you were the number two driver?
MW: You're right, it's been a very rewarding season for me. 2010 has been very special. To race with the likes of Lewis and Fernando and JB – all world champions – and Robert, who's an exceptional talent, there's been a lot of good races this year.
Spa was a very tricky race for us, a great grand prix to watch, and we've had lots of different challenges on the different circuits. Seb is up there too and is a very fast racing driver, so it's been very rewarding for me to be able to race at the front.
Q. Speaking to Lewis after Belgium, he remarked that you had the edge on him in terms of experience but he's been in title fights before…
MW: There's some situations going forward that Lewis won't have experienced that I have, but there will be certainly be some that I haven't experienced that he has. There's uncharted waters on both sides. We know he's achieved some exceptional things in such a short time in F1 and that doesn't happen by mistake.
His first year at McLaren was exceptional, and he's done incredibly well in that short period. We're looking forward to challenging at every race we go to in the future. Whether it will be decided on the track, racing, or by reliability problems, we don't know how it will be decided but at the moment we're enjoying it.
Q. Do you think teams are now free to use team orders?
MW: Until we get a clear clarification on what we know is right and wrong, it turns out what Ferrari did at Hockenheim wasn't a big problem for the FIA, so when we get a clarification of the rule.. Nothing much has changed right now, people's mentalities are the same.
Q. Were you surprised by the outcome yesterday?
MW: No.
Q. The last five races are pretty gruelling fly-aways, will you do anything differently to cope with that?
MW: I'm just going to stay in Australia and I'll be travelling up and down through Asia. It'll be nice to be at my house at home in Australia – and next year I will probably be doing it even more. I think I'll have to get a house in Australia – there's a lot of races in that part of the world!
Q. Are you expecting some people to be especially aggressive here in Monza?
MW: I think some people were pretty aggressive in Spa! JB doesn't change anything, really, Seb might do a bit but Jenson changes nothing.
Q. Are you using the F-duct here?
MW: I don't know. We'll see after Friday.
Q. Everyone says you're the quickest team, but when you look at Renault – which has the same engine – they were quicker than you in Spa. Are you struggling on low-downforce circuits?
MW: Robert was competitive in Spa – they've done a very good chance at getting a car for that type of circuit. We've tried to design a car for 19 races to get everything right, and motorsport is all about compromises. I'm sure Robert would rather take an RB6 for the whole season than a car which is a tenth quicker in Spa. Now that we have a set type of gear ratios, that's factoring into what top speeds we actually do.