Webber says he is not title favourite
| | |
| --- | --- |
| By Jonathan Noble and Pablo Elizalde | Thursday, September 9th 2010, 15:50 GMT |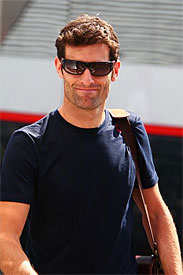 Mark Webber says he does not consider himself favourite for this year's championship despite having what looks like the fastest car.
Webber is second in the standings with six races left, the Red Bull driver just three points behind McLaren rival Lewis Hamilton.
Despite Red Bull likely to be the car to beat in most of the remaining races, Webber reckons he cannot be considered the championship favourite.
"I don't consider myself the favourite," Webber told reporters at Monza.
"The position is healthy at the moment, I have quite a few points - not as many as Lewis, but I'm in a pretty good position points-wise and that doesn't come with a day's work, it takes a while to get to that position.
"I'm looking forward to the weekend, seeing how it goes here – we're not in Abu Dhabi yet. It's ebbed and flowed a bit over the course of the year but mostly it's been the same guys at the front.
"It's been a very rewarding season so far. We hope to have some good highlights around the corner in terms of having some good races and that will only help towards trying to get the end goal."
Webber, who has scored four victories this season, admitted he is thoroughly enjoying driving the Red Bull car this year.
"If you look back at Monaco, Barcelona... some of the victories have been very rewarding for me personally," he added. "Budapest was a different type of victory but to get that was also nice. The team have performed incredibly well this year, you've got to give a lot of credit to them.
"I'm driving well, I feel comfortable in the car and it's been a good campaign for us up to now. For sure, we've had some missed opportunities, but every team has had that so far. I'm really enjoying my driving and performances keep coming."
The Australian also reckons he doesn't have an advantage over Hamilton because of his greater experience, as the Briton has already fought for, and won, titles.
"There's some situations going forward that Lewis won't have experienced that I have, but there will be certainly be some that I haven't experienced that he has," Webber said.
"There's uncharted waters on both sides. We know he's achieved some exceptional things in such a short time in F1 and that doesn't happen by mistake.
"His first year at McLaren was exceptional, and he's done incredibly well in that short period. We're looking forward to challenging at every race we go to in the future.
"Whether it will be decided on the track, racing, or by reliability problems, we don't know how it will be decided but at the moment we're enjoying it."