Button calls for team orders clarification
| | |
| --- | --- |
| By Jonathan Noble and Pablo Elizalde | Thursday, September 9th 2010, 14:13 GMT |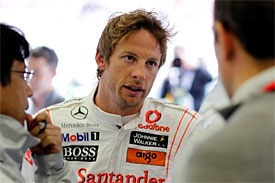 Jenson Button thinks it is very important that team orders rules are clarified quickly in order for the whole Formula 1 field to compete under the same regulations.
The FIA said on Wednesday that it would review team orders regulations following the hearing in which Ferrari was not given any further penalties for its antics at the German Grand Prix, where Felipe Massa let team-mate Fernando Alonso through to win the race and boost his chances in the championship.
Ferrari was fined 100,000 USD by the race stewards in Germany for breaking the rules, and the team was summoned to the World Motor Sport Council.
The WMSC, however, imposed no further penalties on the team, with FIA president Jean Todt saying there was not enough evidence of team orders having been imposed, despite the body ratifying the fine imposed in July.
After the decision to not impose further penalties on Ferrari, McLaren driver Button has called on the FIA to act quickly in order to have a level playing field.
"Obviously it was not down to us, so our opinion [as drivers] doesn't matter in this situation, the decision was down to FIA who is the governing body," Button said at Monza on Thursday.
"But the important thing is we get a clarification of the rules, so we are all working with the same regulations. That is the key."
Alonso told a news conference on Thursday that he wanted to move on from the controversy.
"I think we were very concentrated on Monza already and we are set," he said. "We are aware of the decision of the FIA and just have to respect it. That is the past for us and we concentrate on this weekend.
"I think we talked already too much in the August break about the Germany incident - as my colleagues said, I am happy that the FIA will try to go into the rules and try to clarify if there is any sort of something that is not completely clear in the rules. We can then be all more clear – there is no special feeling."
Lotus driver Jarno Trulli joined the group of drivers calling for an end to the team orders ban, saying Formula 1 drivers must do what's best for their teams.
"In my opinion, this is a sport where the team counts as much as in football. It's true that we have two drivers on track rather than 11 players, but at the end of the day, it's made by strategy and it's made by a big amount of data that we collect. And the strategy plays a very important role," Trulli said.
"Playing team strategy is something which is part of this business and part of this sport. In my opinion, I don't think the federation should impede the teams playing with team orders. It's true that it is a sport, but it's turned into a business, and there are teams that are spending a lot of money to develop a car, to make the drivers win, and to promote their sponsors.
He added: "It's true it's sad for the supporters to see what happened at Hockenheim. But this is part of the business, and you can see it in every sport anyway - probably in a different way, not so obvious as it was at Hockenheim, but it's still happening. Many teams have done it before, even when we had these rules.
"They should let drivers fight and should let the teams decide who is going to win, or who they're going to support - this is my own personal opinion."
Renault's Robert Kubica said the situation would be clearer if the ban was removed.
"About getting rid of the team order rule, I think both ways is okay," Kubica said. "We had the rule and many, many occasions in the past there were team orders, and no one noticed - or let's say it was not so obvious as in Hockenheim.
"I think without the rule it would just be easier, you would not have to hide it so much. There are many ways to swap positions between team-mates, even if the rule is kept."