Latvala downplays shakedown pace
| | |
| --- | --- |
| By David Evans | Thursday, September 9th 2010, 08:10 GMT |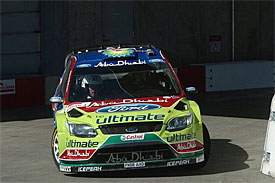 Ford's Jari-Matti Latvala has talked down his fastest time at this morning's Rally Japan shakedown stage.
Latvala set a time four tenths of a second faster than second quickest man Sebastien Loeb.
The mile-long shakedown stage is run in the Sapporo Dome on asphalt, making it unrepresentative of the mainstay of the rally.
Latvala said: "I think I did 10 runs at the stage and Sebastien Loeb did four runs - it's probably right that I was faster. The reason I did so many runs is because I feel I need to work on the area of driving in the shakedown stage, I don't think I'm as strong as I could be. My target for the event is to finish on the podium.
"As you know, my role this year is as the second driver, so I haven't really been thinking about winning rallies, which makes the victories I have had have come as a bonus."
Latvala's morning wasn't quite as trouble-free as it might have been after the Finn suffered an ECU problem on the road section back from the Sapporo Dome. The Focus RS WRC stopped at the side of the road, forcing Latvala to work on the car to get it back to service.
The team has changed the ECU and is confident it won't suffer any problems during the rally. Latvala's Ford team-mate Mikko Hirvonen was two seconds down on Latvala.