Q & A with Joan Villadelprat
| | |
| --- | --- |
| By Pablo Elizalde | Thursday, September 9th 2010, 08:02 GMT |
After months of waiting, the FIA finally announced its decision to not grant the 13th slot for the 2011 Formula 1 championship.
For Spanish outfit Epsilon Euskadi, however, that's no reason to give up, as team boss Joan Villadelprat explains.
Q. "It has been a long waiting but finally the result of the 13th Formula 1 allocation has been announced. How do you assess the FIA's decision?"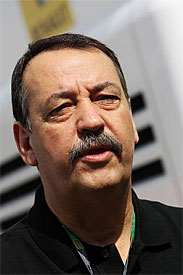 Joan Villadelprat: "First of all, I would like to say that we respect the FIA's decision of not granting the allocation of the 13th license. If, having all the information about the candidates, they decided that this is the best option is because it must be. As a personal opinion, I think that it is best to leave it vacant rather than having a team that, given the deadlines and requirements, would almost be impossible to be ready for 2011.
"We knew it would be very difficult for us to be chosen since, as I always said, we still don't have the economic package granted. Without this capital it would be unfeasible to carry out the F1 project that we want. And without this capital neither would we commit ourselves to do it. We have the ideal facilities and work force for Formula 1 and we will keep working to get there sooner or later."
Q. "Why do you think they decided to leave it vacant?"
JV: "Once again, if the FIA opted for this option is because they have their reasons to do it. Why I cannot answer because that would be going into speculations that I shouldn't. Only the FIA possesses all the information to make the most accurate decision and if they considered that to be the best is because it may be."
Q. "Which are the differences between the 2009 Epsilon candidacy and this year one?"
JV: "This year's was the same than 2009 but improved; more settled and complete. In 2009 we weren't yet established at the new headquarters and we were missing the mileage that we currently have. This year we also moved forward with the model and the human team. This candidacy was even better than 2009 one, the only thing we were missing was the financing, which we had last year."
Q. "How is it possible that you had it last year and not this time?"
JV: "Because last year we had investors we couldn't get back this time. The fact that we don't have it now doesn't mean that we couldn't have it within a short period of time. As soon as we have it, we will be able to set other scenarios out."
Q. "Do you consider that time was wasted?"
JV: "Not at all! Everything we did had an aim, which was to be ahead in order to be ready in case we were granted the entrance. This didn't happen but all the work done until now helped us to gain and keep accumulating experience and know how in the field. Automotive and racing is in our DNA but we also work in other industries which benefit from our advances and experience."
Q. "Without this Formula 1 license, how does Epsilon face the future?"
JV: "Formula 1 is one of our targets but not the only one. This license was a direct entrance but isn't the only one either. Epsilon will go ahead with its industrial and automotive projects. Formula 1 is among these because it is the greatest expression of car racing competition and technology, fundamental pillars of the company. Nevertheless, it is not the only one. While we work on a new opportunity, we will go ahead with our educational, racing, manufacturing and R&D projects."
Q. "Are you saying that you might be considering other options to enter Formula 1?"
JV: "As I said, the 13th license was one way but not the only one to get into Formula 1. We definitely consider other possibilities, which can be very different. We are talking about options that haven't occurred yet but, I repeat, we will keep working both on the financial and development packages to be ready for when these options may come up."