Hirvonen: Narrow stage key to Japan
| | |
| --- | --- |
| By David Evans | Wednesday, September 8th 2010, 11:24 GMT |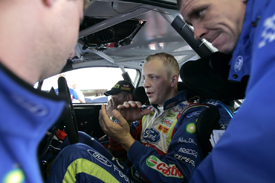 Two-time Rally Japan winner Mikko Hirvonen has identified Sunday's Naekawa stage as one which could potentially turn this week's event on its head.
Hirvonen, who arrives on the island of Hokkaido chasing a Rally Japan hat-trick, is at odds with his fellow competitors over the inclusion of the 10-mile stage - he likes it, while the other drivers feel it is too narrow.
"The stage starts out quite wide and similar to the others," said Hirvonen. "But then for about 11km (6.8 miles) it's definitely the narrowest road that I have ever done.
"It feels just like driving in the jungle, it's all so overgrown and it's just the width of the car. I really like it, definitely. It's so different to the other roads. It's so overgrown that you just don't know what's going to be off the side of the road - you can't see anything in the bushes."
The Finn said there is potential to cut corners on Naekawa, but there is the ever-present danger of not knowing what lies behind the trees.
"There might be nothing," Hirvonen said. "But you take a risk on there being nothing - but then there could be something. This is not going to be an easy stage, certainly something could happen here.
"It's the narrowest stage of the year; there aren't many junctions in there. It's not mega slow: it's second and third gear through there. It flows, but it flows slowly.
"In the recce car, I just use the lines that I would use in the rally car, but on the exit of corners in particular you tend to go a little bit wider with the rally car. And that means going into the trees. And I don't know what?s going to be there - it's going to be exciting!"
Britain's Matthew Wilson was no fan of the stage, saying: "I wouldn't drive a Camel Trophy car down there, it's very rough. It's a shame, it starts well, but then it becomes really silly."
Hirvonen's Ford team-mate Jari-Matti Latvala added: "I wouldn't say I hated it, but it's not my favourite piece of road."