Power certain he will conquer ovals
| | |
| --- | --- |
| By Matt Beer | Wednesday, September 8th 2010, 09:26 GMT |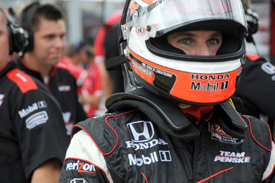 Will Power is adamant that he will deliver results on ovals, but admits that fending off Dario Franchitti in the IndyCar title run-in will be tough.
The Australian has seen his 59-point lead over Franchitti dwindle to 17 after the last two races on the Chicagoland and Kentucky ovals. All five of Power's wins this year have come on road and street courses, but he has yet to finish above fifth in an oval event - and the title will be decided on oval tracks at Motegi and Homestead.
Power led much of last weekend's Kentucky oval race, before a late mistake after a pitstop dropped him to eighth. He felt he had been handling the race well apart from that one error.
"When you're running up front, it's very easy just to run on the bottom and very comfortable," said the Penske driver.
"On that out-lap I was going round a backmarker, and I think from that crash there was a little bit of oil down and I just washed right up. It took me by surprise, I almost hit the wall - it washed up really close and I thought I was hitting the wall.
"Not good - another bad oval result. But I'm going to get there, I'm definitely going to get there."
He admitted his lack of experience on the remaining tracks could be an issue. Neither Homestead nor Motegi was part of his limited schedule in 2009, he retired early at Homestead in 2008, and contested the concurrent Champ Car finale in Long Beach - which he won - rather than racing at Motegi in the first year of reunification.
"Two places, one I've never been to, and Homestead I've done about 10 laps in a race there... I don't know. I'll have to do a very good job, I think," Power said.
He said there would be no tactical approach to the deciding races - as with a 10-point difference between the scores for first and second places, he simply had to beat Franchitti on track.
"I think you've just got to go out there and now we've just got to make sure we're ahead of Dario. It's as simple as that," said Power.