Team apologises to Parente for error
| | |
| --- | --- |
| By James Gent | Tuesday, September 7th 2010, 08:39 GMT |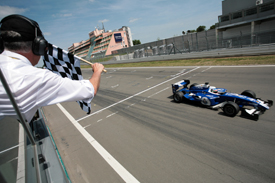 ATECH-Reid team manager Anthony Reid has blamed a 'management fault' for the erroneous pitstop that cost Alvaro Parente his place in the Superleague Super Final at Adria.
The FC Porto driver was forced to serve a stop-go penalty - just two laps before the end of the second race - following a breach of the regulations by the pit crew during his mandatory pitstop.
Parente got a penalty for his team not changing all four tyres, as stated in the rules.
Speaking with AUTOSPORT, Reid confirmed that the team's error had not been an attempt to contravene the rules.
"Categorically it was our mistake", he said. "We were looking to see how the tyres were wearing, talking to Alvaro through the process of the race, with the intention of saving a new set of tyres for the super final. Obviously it's backfired on us and it's purely a management fault."
Reid, whose outfit currently runs five of the clubs competing in Superleague this year, would not be drawn on whether the team had been given permission by race organisers to proceed with the stop.
"We actually misread the rules", he continued. "You can [refit the same tyres] with wets but it does say in the rules - having been pointed out to us now and re-read it – that it does say 'change for slicks', so we hold our hands up. There's no one to shoot but ourselves."
Parente had been running in seventh place during the opening stages of race two after starting tenth on the reversed grid. Whilst most drivers pitted early, the Portuguese driver took advantage of a clear track to open the gap to his nearest competitors.
After pitting just minutes before the pit window closed, Parente rejoined fourth and would have guaranteed his place in the final 100,000 euro 'dash for cash' if he had finished there.
"We apologise to Alvaro", Reid explained, "It was definitely a team error. It was the engineer and myself, both hold our hands up and we're in the firing line. It was our fault."
The team manager also remained 'pretty confident' that FC Porto's sister team – Sporting Lisbon – would return to race duties at the next round in Portimao. Current Formula 2 Champion Andy Soucek, who raced for the club at Brands Hatch, is favourite for the drive.