Bridgestone announces final allocations
| | |
| --- | --- |
| By Pablo Elizalde | Tuesday, September 7th 2010, 06:32 GMT |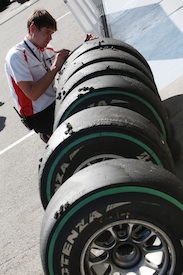 Bridgestone has announced the final allocations for the 2010 season, revealing the tyres that it will take to the last four races of the year.
The Japanese tyre supplier, which will leave F1 at the of end of the season, said there will be again a one-step gap between compounds for each of the final four tyre allocations.
Bridgestone said it will take the soft and hard compounds to both the Japanese and the new Korean Grands Prix, with the super soft and medium compounds used in Brazil and Abu Dhabi.
"The most interesting question for these final allocations is which tyres will we bring to Korea," said Hirohide Hamashima, Bridgestone Head of Motorsport Tyre Development.
"As always for a new race we work closely with the FIA, the circuit and the teams to reach our decision but in addition to all this information we always have safety in mind so our allocation for the first race in Korea will naturally be on the conservative side.
"The tyres for Korea are currently being shipped to the track and we are very interested to see this new facility when we go there in seven weeks time. Suzuka puts the tyres through a tough workout so we have the harder combination of hard and soft, whilst Sao Paulo and Yas Marina suit the softer combination of super soft and medium.
"Due to the nature of the tracks, there were no further opportunities for a hard - super soft allocation, although we did evaluate this after the lessons learnt at the Hockenheim."