| | |
| --- | --- |
| Rossi: Fatal crash was unpreventable | |
| | |
| --- | --- |
| By David Emmett and Matt Beer | Sunday, September 5th 2010, 18:05 GMT |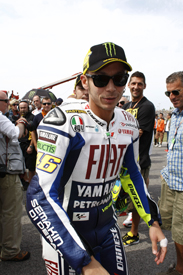 Valentino Rossi believes Shoya Tomizawa's fatal crash in the Misano Moto2 race was purely a freak accident, and that no changes to regulations or the track could have prevented the crash.
Tomizawa suffered multiple injuries when he fell into the path of Alex de Angelis and Scott Redding during today's Moto2 event, and died in hospital two hours later.
Rossi said Tomizawa's accident was a worst case scenario that regulations and safety precautions could not have accounted for.
"About safety, they work a lot, but this is the worst thing that can happen in our sport - you crash, you remain on the line, and other bikes are right behind," said the MotoGP world champion.
"Also, in a fast, fast corner like this, usually if you crash, you go very much on the outside because the speed is high. Unfortunately Tomizawa crashed and didn't crash, he remained on the bike and on the line. The others were too close to try to do something.
"But I think that with a crash like this, it's also very good that de Angelis and Redding are okay."
Rossi insisted no blame should be attributed to the Misano track either.
"Misano is a safe track like all the other tracks," he said. "Tomizawa didn't hit the wall or something particularly bad on the track."
The Yamaha rider also urged Redding and de Angelis not to blame themselves for the accident. Moto2 returnee de Angelis was able to walk away uninjured, while Redding required stitches on a cut to his back.
"De Angelis especially, but also Redding, cannot take responsibility because at 230km/h, when another bike crashes in front, there's nothing you can do," said Rossi. "They were just in the wrong place at the wrong moment."