| | |
| --- | --- |
| Stoner criticises Rossi over Ducati test | |
| | |
| --- | --- |
| By David Emmett, Michele Lostia and Matt Beer | Saturday, September 4th 2010, 09:50 GMT |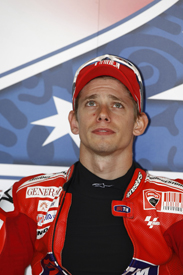 Casey Stoner says Valentino Rossi would only have himself to blame if Yamaha did not release him early so he could test for Ducati this year.
Ducati has already agreed to let Stoner move to new employer Honda in time for the post-season tests in November, but Yamaha currently maintains it will not let Rossi try the Ducati until his contract officially expires at the end of 2010.
Stoner believes Yamaha ought to let Rossi leave early - provided the Italian does not antagonise his current team.
"Honestly I think they should release him, but at the same time, he doesn't necessarily leave on good terms when he leaves a company," said Stoner.
"Already he's started to say that they're not giving him great parts and all this sort of stuff. Why should they release him when - if that's not the truth - he's lying about their company and trying to make them sound bad?
"There are two sides to every story. In reality, they should let him leave [early], because it doesn't look good for their company after everything he's done for them over these years."
He reckoned that whatever the outcome of Rossi's test bid, the Italian would use it to his advantage.
"If he cannot test and he's not fast in the first few races then for sure he'll use it as an excuse," said Stoner. "But if he's fast from the beginning with a bike without testing then he'll come up and say that he's a genius.
"We're getting more tests than last year anyway so I think it shouldn't be such a problem if he misses one test. It's a better time for him to change bikes now, if he isn't allowed to test."
The Australian also hit back at quotes from Rossi in the Italian newspaper Gazzetta dello Sport suggesting that he could not judge Ducati's potential because "in free practice Stoner does not make the same effort as [Jorge] Lorenzo and [Dani] Pedrosa: he does one lap out and comes back in. You can never tell what the bike is able to do over the distance."
Stoner suggested that Rossi should focus on responding to his current team-mate Lorenzo's speed rather than passing judgement on Ducati's situation.
"I don't care about his opinion," said Stoner. "At the moment he's getting his arse kicked by his team-mate, so he has to worry first and foremost about this. Somebody else is doing a better job in the same garage."