McLaren: Webber is main opposition
| | |
| --- | --- |
| By Jonathan Noble | Monday, August 30th 2010, 09:09 GMT |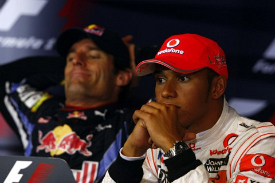 Mark Webber has been singled out by McLaren as its main rival for the world championship now - even though a number of other drivers remain in mathematical contention.

With Lewis Hamilton and Webber moving clear of their rivals at the head of the championship standings after the Belgian Grand Prix, there is already talk that the title fight is on the verge of becoming a straight two-way contests

Although McLaren says both its drivers will continue to have an equal chance of winning it, the Woking-based outfit concedes that Webber's points position – and the fact he is the more consistent of the Red Bull Racing pair – makes him the main threat to its ambitions.

"He is mathematically the closest," said Whitmarsh. "He is a strong driver and he is driving well, so he has got to be the main opposition. But there are a lot of drivers still in it.

"We've had a fantastic championship, we are past the middle now, and it is great to be leading the drivers' championship. We feel we should have been leading the constructors' championship too, but we are one point behind and it is all to race for now."

Although Webber is 28 points clear of struggling team-mate Sebastian Vettel, Whitmarsh does not expect Red Bull to begin throwing all its weight behind the Australian.

"I don't stop to think about it," he said. "I think they quite like their younger driver, so I doubt they will put their weight behind Mark."

Webber himself thinks the Belgian Grand Prix has served to change the picture of this year's world championship – but he is not yet getting too carried away by his position or the advantage he holds over team-mate Vettel.

"I have 28 points more than Seb, with Jenson and Fernando further behind," he told his own website. "The picture looks different to how it did 24 hours ago, but there are still six races/150 points available, so I'm not getting too excited. Roll on Monza."