CytoSport dominates at Mosport
| | |
| --- | --- |
| By Matt Beer | Monday, August 30th 2010, 03:54 GMT |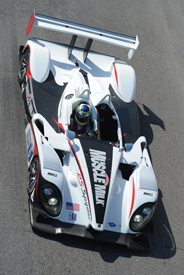 CytoSport Porsche duo Romain Dumas and Klaus Graf dominated the Mosport Park round of the American Le Mans Series, which was halted 26 minutes early when a barrier was damaged in a massive accident.
The incident happened after Jonny Cocker's Drayson Lola made contact with the GTC class-leading Orbit Porsche of Luke Hines, sending the GT car heavily into the wall. Hines was unhurt but the barrier required substantial repairs, resulting in first a long yellow, then a stoppage of nearly an hour, and finally the abandonement of the race when it became clear that permanent repairs would take too long.
Dumas and Graf controlled the race throughout, leading by over a lap at one stage, although pitstop and yellow flag timing meant the Simon Pagenaud/David Brabham Highcroft HPD was back within sight of the Porsche in the safety car queue when the race was stopped for good. The result means Graf goes into the season-closing Petit Le Mans next month 16 points behind the Highcroft duo in the title fight.
Even before the late collision, Elkhart Lake winner Drayson was out of contention - owner/driver Paul Drayson having fallen away from the leaders in his opening stint and then damaged the car in an incident in traffic.
Having missed qualifying and changed tyres after the session respectively, the Intersport Lola and Dyson Lola-Mazda started from the back and tore through the field in Jon Field and Chris Dyson's respective hands early on, reaching second and third. But a transmission issue in the pits for Intersport and contact between Dyson and a Corvette wrecked their races and allowed the improving Autocon team to take third overall - new driver Johnny Mowlem having kept within range of Highcroft for a while.
The Flying Lizard Porsche of Jorg Bergmeister and Patrick Long came out on top of another breathtaking GT battle with the Toni Vilander/Gianmaria Bruni Risi Ferrari and the Bill Auberlen/Tommy Milner Rahal Letterman BMW. Both Corvettes were delayed by incidents, and the second BMW had a spectacular clash with the Doran Ford.
The Elton Julian/Gunnar Jeanette Green Earth Gunnar squad won LMPC, while Hines and team-mate Bryce Miller had GTC totally under control before the Cocker incident, which handed a maiden class win to Velox duo Shane Lewis and Lawson Aschenbach.
Pos  Cl   Drivers                    Car             Time/Gap
 1.  P    Dumas/Graf                 Porsche     2h19m01.795s
 2.  P    Brabham/Pagenaud           HPD              + 4.620
 3.  P    Mowlem/Burgess             Lola            + 1 laps
 4.  PC   Jeannette/Julian           ORECA           + 4 laps
 5.  PC   Tucker/Bouchut             ORECA           + 4 laps
 6.  P    Drayson/Cocker             Lola            + 4 laps
 7.  P    Dyson/Smith                Lola-Mazda      + 5 laps
 8.  PC   Montecalvo/Zugel           ORECA           + 6 laps
 9.  PC   Tucker/Wallace             ORECA           + 6 laps
10.  PC   Gonzalez/Diaz              ORECA           + 7 laps
11.  GT   Bergmeister/Long           Porsche         + 7 laps
12.  GT   Vilander/Bruni             Ferrari         + 7 laps
13.  GT   Auberlen/Milner            BMW             + 7 laps
14.  GT   Magnussen/Gavin            Corvette        + 7 laps
15.  GT   Beretta/O'Connell          Corvette        + 7 laps
16.  GT   Sharp/van Overbeek         Ferrari         + 8 laps
17.  PC   Marcelli/Ducote            ORECA           + 8 laps
18.  GT   Sellers/Henzler            Porsche         + 8 laps
19.  GT   Brown/Cosmo                Ferrari         + 9 laps
20.  GT   Law/Neiman                 Porsche         + 9 laps
21.  GT   Gentilozzi/Goossens        Jaguar         + 12 laps
22.  GTC  Lewis/Aschenbach           Porsche        + 13 laps
23.  GTC  Pappas/Bleekemolen         Porsche        + 13 laps
24.  GTC  Sweedler/Pagerey           Porsche        + 13 laps

Retirements:

     GTC  Miller/Hines               Porsche     78 laps
     GT   Muller/Hand                BMW         48 laps
     GT   Murry/Robertson/Robertson  Doran Ford  48 laps
     P    Field/Field                Lola        43 laps
     GTC  Richard/Lally              Porsche     32 laps