Alguersuari hoping for more rain
| | |
| --- | --- |
| By Jamie O'Leary | Saturday, August 28th 2010, 14:07 GMT |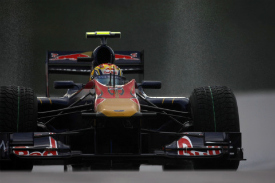 Jaime Alguersuari is hoping for a wet Belgian Grand Prix after achieving a career-best 11th place on the grid for the race at Spa-Francorchamps.
The Spaniard was 13th fastest in qualifying, but will start the race from two places further up the grid once Mercedes drivers Nico Rosberg and Michael Schumacher take their penalties.
He believes he could have pushed even harder during the latter stages of Q2, but was still satisfied with his result.
"On the slick tyres, I had a strong feeling of confidence from the car, because this weekend the car balance has been quite good as we have worked well over the two days," Alguersuari said.
"On my last run, Turns 13 and 14 were still slippery so although I pushed as hard as I could for most of the lap, I backed off a bit at these two points and that's where I lost all my time, which meant I was not going to make Q3.
"To be honest, I never expected to be this high up the order, so I hope it rains again tomorrow, which will suit us well."
Toro Rosso technical chief Giorgio Ascanelli was disappointed that Alguersuari's team-mate Sebastien Buemi had not joined him on the sixth row (he will start 13th), but was generally satisfied with the team's performance.
"I think we look a bit better than usual because other drivers made mistakes," he said. "But in terms of performance, we're pretty much where we expected to be, so not so different to in Hungary.
"Jaime has done a good job over the two days, keeping calm, even if he told us on the radio this afternoon that he could have taken more risks."