Q & A: Aldo Costa on wings and floors
| | |
| --- | --- |
| By Jonathan Noble | Saturday, August 28th 2010, 08:07 GMT |
Ferrari and Red Bull Racing have been the focus of much scrutiny in recent weeks about potential flexing of their front wings.

Both teams have, however, insisted that they are doing nothing wrong - and have passed all FIA examinations conducted on their cars.

AUTOSPORT caught up with Ferrari technical director Aldo Costa at Spa to talk about the front wing issue, hear his explanation for why his team's wings run closer to the ground and find out his reaction to the complaints from rival outfits.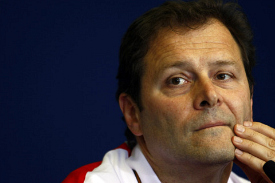 Q. There has been a lot of talk in recent weeks about flexing of front wings and perhaps the floors as well. We are now seeing two sets of tests introduced – on the wings here and the floors in Monza. Have you had to make any modifications to your cars?
Aldo Costa: In terms of the front wing, one of the tests is doubling the load but also doubling the deflection. In our case, our front wing is linear – and we don't have any tricks or anything like that. In that respect there is no issue at all.

The other test is the same load as before, the same deflection as before, but it is measured from the reference plane and not from the nose. This is to ensure people do not have flexible noses or flexible attachments on the nose to chassis. Again, this is not an issue for us – apart from the fact that when you have a car on a floor, and you apply a load on the front wing, you also deform slightly the floor of the car and the car moves slightly. That means the deformation will be slightly higher, so we have to take that into account.

For the wings we are using here at Spa, we have not made any modifications, because they are okay. The high downforce front wing we have will require some small adjustments though.

Q. And what about the changes to the floor regulations for Monza?
AC: Everything on this matter was clarified in the summer break by the FIA. There will be a vertical load applied at 100mm on each side of the floor [in the tea tray area]. There is also a new requirement for the plank, which requires modifications for every car I believe. We had a slightly shorter plank [than the new minimum 1 metre length].

The offset load is a pretty severe load in that position, so all the teams that have got a single strut in the middle will have to do some changes. It is not only for a few teams – I think it is a change of all the specifications in F1.

Q. Have you been surprised by the reaction of some teams, especially McLaren and Mercedes GP, in speaking in public that yourselves and Red Bull Racing are using flexible wings?
AC: Yes. We have been very, very surprised because the front wing, in our case, is designed for minimum weight. As always when we design wings, like when we design other elements of the car, there are FIA requirements and you need to respect these requirements. Then you design the component for the minimum weight possible for that requirement – which we did.

So I am very surprised hearing that there are wings that are probably much stiffer than the FIA requirement. This means that they are very conservative in their approach, which is not our business. Really we do not understand this behaviour.

Also in terms of the front wing height, the wing runs so low because it is a choice of our static pitch position, of our front suspension stiffness, of our suspension geometry and characteristic – and that means we can obtain that height. So we do not understand what they are complaining about.

Q. One of the issues from your rival teams is that they think you can only run the wing assembly as low as that, without the front of the floor hitting the ground, if the floor is flexing up or moving...
AC: Yes, but it is not. In my opinion, they are running, through their choice, not as stiff as we are running. They are not running as low as we are running. They are running much more horizontal with their set-up, more flat, so they have an aerodynamic characteristic of their car which is completely different. Or, they are bottoming much less – and they have a problem if they bottom in certain conditions.

I think it is down generally to the characteristics of the car – or they are using it as an excuse. As I see it, the reality is that Ferrari has increased its performance by more than one second in the last five races. We have brought a huge amount of development.

The exhaust system (blown diffuser) has been working very well. And, as well, we have done a nice development on the rear blown wing and other bodywork parts – and the car is improving every race. It was down to a genuine performance development, and nothing related to this business.

Q. Has your wing philosophy changed over the course of this season, because this wing issue only really erupted at Silverstone?
AC: No. In terms of the front wing, we have different specifications. We have wings for high downforce configuration, wings for medium downforce and wings for low downforce at Monza. So, at Silverstone, we were shaking down our three-element front wing which was our first attempt on a three-element wing, because previously we always had two elements. It was a good step forward in terms of aerodynamic performance.

Q. But in terms of philosophy of the rake of the car, nothing changed in terms of geometry?
AC: No.

Q. So there is no reason it should come up at Silverstone rather than the beginning of the year?
AC: No. It came up when we started to be quicker than them!

Q. A lot of complaints are based on photographs of your car and the Red Bull, plus video footage shot in Hungary. Do you think it appears strange, especially on the Red Bull, how low the wing is running?
AC: It is all relative. McLaren and Mercedes, they do not understand how we can run the front wing so low. And we do not understand how Red Bull can run their front wing even lower than us – because we are trying to develop the performance of the car and we decided to go down that route. I don't know how they are able to do it. But if I don't know something, the first thing I do is to start thinking how we can do it.

Q. Do you think the current wing deflection tests are still good enough, or do you believe teams are focusing only on getting through scrutineering and then doing other things out on track?
AC: The front wing FIA load is roughly 2.5 times lower than the maximum load you would get at top speed. So there is room to increase the load, but then it is a matter on how to apply the load statically in the garage. It is not easy. But we would be quite happy to increase the load on the wings. We are quite far from the top speed maximum load, so the wing can accept a higher load for sure in terms of the FIA test. There are no issues on that front from our side.

Q. Will the new tests and rule tweaks for this race and Monza be enough to finally silence this issue once and for all?
AC: I don't know. I don't know what these teams have in mind. If they decide to concentrate on their own car, rather than keep looking around, then yes it will be finished. That is all I can say.

We are speaking with the FIA, we can show them any evidence they want, we are making available any data or telemetry to help them understand how we operate with the car. There are no secrets. The front of the floor is bottoming, and there is an FIA load to check on flexing – and you can have a maximum deflection of 5mm within 200kg. In the more recent races, when we have done the test, our floor has, with 200kg, had just a 2-3 mm deflection. So there is nothing strange there. We are well within the margins.

Q. Is it quite simple to create a car that can run with its front wing low down to the ground, but the difficulty in that is not compromising the rear of the car by having to run it so high there?
AC: It is all linked together. I don't know why, but it seems that there are a couple of teams who are developing their aero characteristics in a different region in terms of settings and set-up. We would never run the car as Mercedes and McLaren run theirs – our car would not be good to run so high at the front and so low at the rear.

Q. Would a difference in the tyre pressures, if they choose to run a higher tyre pressure, have an impact on wing height too?
AC: Yes. There are a lot of small variables. There is tyre pressure; suspension stiffness in terms of spring systems; suspension geometry characteristics. There are a lot of parameters that you can play with if you have got a certain goal and a certain direction you want to take. As usual in F1, you try to go to the limit with every parameter you can to achieve more performance.