| | |
| --- | --- |
| Hayden hopes wrist won't hamper him | |
| | |
| --- | --- |
| By Matt Beer | Friday, August 27th 2010, 17:04 GMT |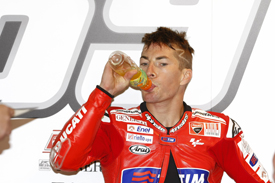 Nicky Hayden is optimistic that his injured wrist will not be too much of a problem in this weekend's Indianapolis Grand Prix, even though the wound has not had time to heal properly since his Brno crash.
The accident in the Czech Republic left Ducati rider Hayden with a chipped bone, but he was surprised to get through to sixth in the race despite the discomfort.
"It was an easy crash, but I always hold on to the bike too long think I'm going to save it, save it, and the bike landed on it and it definitely wasn't real fun there in Brno for the race," said Hayden. "After the warm-up, I was praying for rain for the race and didn't get it. But managed to do even better than we thought in the race.
"But I've had about 10 days, and bones don't heal up 100 per cent in 10 days, though us riders we think they can sometimes and they should..."
He reckons Indianapolis will be an easier track for the wrist to handle than Brno - and hopes this belief proves correct as he is desperate for success on home ground.
"It's certainly a lot better than it was last week, and this track doesn't have the hard braking it had in Brno," Hayden said. "So I really don't expect big, big problems with it. We'll see how it goes. But the left wrist is a lot better than the right wrist. So we'll see.
"But I'm hoping for no big problems. We ain't got time to be messing around with sore wrists this weekend; we've got to go for it."
Hayden added that he expected Ducati would soon announce that he would be staying on at the team for a third year in 2011, when he will partner Valentino Rossi.
"Certainly we're really close, and an announcement is coming soon," said the American. "So officially I can't say a whole lot more than that, but everything is looking good and soon we'll know something.
"I don't expect anybody to be shocked when they hear what's happening. It won't be nothing too overwhelming..."