Renault to keep F-duct for Belgian GP
| | |
| --- | --- |
| By Jonathan Noble | Friday, August 27th 2010, 15:28 GMT |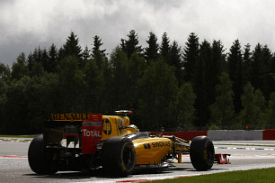 Renault plans to keep its F-duct on its car for the remainder of the Belgian Grand Prix weekend following an encouraging first track run for it in practice at Spa-Francorchamps.

Although the mixed weather conditions affected testing of its new design, Renault is pleased with the step forward in form that the F-duct has delivered.

Robert Kubica reckons the straight-line speed boost the F-duct produces contributed a lot to his strong Friday form and the outfit sees no reason to take a conservative approach and remove it from the car.

"It worked as we were expecting," said Kubica, who was third and fourth fastest in the practice sessions. "As you saw, it was quite important to run it straight away in P1. We did some evaluation and check-ups on the system to get more information, more knowledge and experience, and so far it is working correctly. We did not have any problems."

When asked if the plan was for the F-duct to stay on the car, Kubica said: "Yes, definitely."

Despite the positive feeling from the F-duct, Kubica admitted that it was not so easy to adapt his driving to activate it on the straights.

"It is something you have to get used to," he said. "It is not something I have ever done. Normally when you are at the end of a corner you are accelerating and you are just going up through the gears, and you are somehow concentrating on the next corner.

"Now you have to remember to cover the hole, which is not annoying but it is something you have to get used to. In some places on the track it is not so easy, but we have a comfortable position so it is quite okay."