| | |
| --- | --- |
| Rossi not giving up on Ducati test bid | |
| | |
| --- | --- |
| By Michele Lostia and Matt Beer | Friday, August 27th 2010, 15:09 GMT |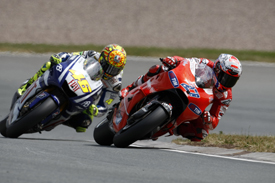 Valentino Rossi remains optimistic that Yamaha will relent and allow him to ride for new employer Ducati in the post-season Valencia test even though his Yamaha contract will not have run out by then.
Yamaha racing chief Masao Furosawa has indicated that Rossi will not be permitted to try the Ducati until next year, but the reigning champion - who finally announced his long-rumoured team switch at Brno a fortnight ago - thinks the situation will change given time.
"Furusawa has said that I won't be allowed to test the bike, but I remain optimistic," Rossi was quoted as saying by Gazzetta dello Sport.
"Japanese people have their mentality, and they need time to digest a situation. I'm fine if they give me permission 10 days before the test."
He added that as he was parting with Yamaha on genial terms, he did not see why the team would block him from testing for Ducati.
"For what we have done together with Yamaha, the victories, the work done and everything else, I'd be very surprised and disappointed if they don't allow me to test the new bike," said Rossi.
"Only one person in the past was denied that and - guess what - it was still me, in 2003. But it was different with Honda, the relationship had gone sour, so I expected that from them. I don't expect that from Yamaha."
Rossi's current Yamaha team-mate Jorge Lorenzo also came out in support of the Italian's request to try the Ducati at Valencia.
"This decision is Furusawa's," said Lorenzo. "As far as I'm concerned, I'd let him test the Ducati at Valencia.
"I don't think one extra test or one less makes any difference."